BARNAY, LUDWIG:
German actor; born at Budapest, Hungary, Feb. 12, 1842. He was the son of the secretary of the Jewish congregation at that place. Barnay was destined for the building trade, but induced his father to send him to Vienna to study for the stage under Adolf Sonnenthal. Though but fifteen years of age, he made so good an impression on Sonnenthal that the latter took him in charge. For some time Barnay devoted himself to study in the polytechnic school; but its curriculum proved irksome, and he finally gave all his attention to histrionic studies. His father, angered by his son's course, disowned him. In 1860 Barnay, then eighteen years old, went to Trautenau, Bohemia, and made his début with the local company under the name of "Lacroix" as Baron von Heeren in Töpfer's "Zurücksetzung." Although he made a fiasco, the management allowed him to play in "Tische und Sesseln," in which he acquitted himself with more credit. When the company went to Braunau, Bohemia, Barnay accompanied it, receiving five gulden and fifty-one kreutzers ($2.67) for his work during June and July.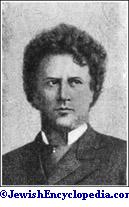 Ludwig Barnay.
Next he headed a company of "barnstormers" which played in small towns in Moravia and Austrian Silesia. When the tour proved a financial failure, Barnay returned to his home and became reconciled to his father. This proved the beginning of his real career, for he was asked to appear at a benefit, at which he did so well (under his own name) as Prince Leopold in Hersch's "Anna-Liese," that Heinrich Laube invited him in 1863 to become a member of the Vienna Burgtheater ensemble. Barnay refused this, however, declaring himself as yet unfit for the work. Instead, he went to Mayence, where he played minor rôles for a time, returning to Vienna to appear at the Burgtheater as Ludovici in Mosenthal's "Deutsche Komödianten." Later he played Karl Moor in Schiller's "Räuber," and Lord Rochester. In 1864 he played at Prague, and in 1865 at Riga, where he made his début as Faust and Tell and as Orestes in Goethe's "Iphigenie auf Tauris." His next appearance was at Mayence in 1866, then at Erfurt, and in 1867 at the Stadttheater of Leipsic. A year later he appeared at Weimar with the Meininger company, playing Schiller in "Karlsschüler," Graf Essex, and leading parts in other plays.
In 1870 Barnay joined the Stadttheater in Frankfort-on-the-Main, where he remained for five years. It was during this time that he accomplished his greatest service to the German stage—the convening of the stage-congress at Weimar July 17, 1871, which, on the day following, organized the alliance of German stage associates under the name of "Genossenschaft Deutscher Bühnenangehöriger," which welded into one body the hitherto semi-antagonistic players, authors, and managers. So greatly was Barnay's share in this undertaking appreciated, that in 1872 an address of thanks, signed by four thousand actors, was presented to him.
From 1875 to 1880 Barnay held the position of stage-director of the Stadttheater in Hamburg, although in the interim he starred at the Hoftheater in Stuttgart (1873), at Munich, Frankfort, and Berlin, appearing also with the Meiningers. In 1883 he became one of the founders of the Deutsche Theater in Berlin, but two years later resigned to convert the old Operetten-Walhalla-Theater into a playhouse of his own, which he named the "Berliner Theater." Here he remained until 1894, when he retired from active participation in affairs of the stage.
Barnay played also in London and New York, at both places duplicating his German successes.
Opinions as to Barnay's artistic standing in his profession are unanimous so far as German critics are concerned. By them he has been acclaimed a histrionic genius, possessed of versatility, intensity, and emotional power of the first order. Judged by the standards of the English-speaking stage, however, Barnay belongs to the declamatory school of two generations ago. But in rôles such as Uriel Acosta and Moor, Barnay is undoubtedly good. His Tell is a noble impersonation; but his Marc Antony savors too much of the elocutionary school. Other parts in which he acquitted himself with credit are Graf Waldemar, Essex, Othello, Hamlet, Kean, and Wallenstein.
Bibliography:
Leipsic, Ill. Zeitung, Jan. 3, 1880, p. 15;
The Theatre (new series), iii. 344-346;
Kohut, Berühmte Israelitische Männer und Frauen, pp. 191-198;
Meyer, Konversations-Lexikon.
S.
E.
Ms.