HEILPRIN, ANGELO:
American naturalist, geologist, and traveler; son of Michael Heilprin; born March 31, 1853, at Sátoralja-Ujhely, Hungary. He was taken by his father to the United States in 1856. Some years later he returned to Europe, where he was educated. From 1876 to 1878 he continued his studies at the Royal School of Mines, London; at the Imperial Geological Institution of Vienna, and at Florence and Geneva, subsequently returning to the United States. He was professor of inverte-brate paleontology and of geology at the Academy of Natural Sciences, Philadelphia (1880-1900); curator in charge of the museum of that institution (1883-1892); professor of geology at the Wagner Free Institute of Science in Philadelphia (1885-90); and has been president of the Geographical Society of Philadelphia for seven years. Heilprin has also demonstrated his ability as an artist, and in 1880 exhibited "Autumn's First Whisper" at the Pennsylvania Academy of Fine Arts, and "Forest Exiles" at the Boston Museum of Fine Arts in 1883.
Genealogical Tree of the Later Branch of the Heilprin Family.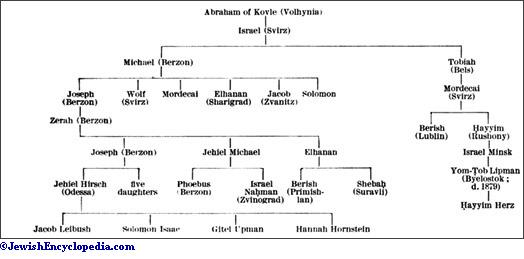 In 1886 Heilprin went to Florida for the purpose of investigating the geological structure of the peninsula; in 1888, to Bermuda for a similar purpose. Two years later he set out on a scientific expedition to Mexico, and in pursuit of his investigations he ascended Iztaccihuatl, Orizaba, and Popocatepetl, and ascertained their altitudes by barometric measurements. While on this journey he explored the central plateau, and on his return contributed valuable additions to the geological knowledge of that region. In 1892 Heilprin led the Peary Relief Expedition to Greenland. After the eruption of Mount Pelée, by which the city of Saint-Pierre, Martinique, was entirely destroyed (May 8, 1902), Heilprin visited the island, and climbed to the crater of Mount Pelée while the volcano was in action; he revisited it in 1903.
The following are his chief publications: "Contributions to the Tertiary Geology and Palæontology of the United States" (1884); "Town Geology, the Lesson of the Philadelphia Rocks" (1885); "The Geographical and Geological Distribution of Animals" (1887); "The Geological Evidences of Evolution" (1888); "The Bermuda Islands" (1889); "Principlesof Geology" (1890); "The Arctic Problem and Narrative of the Peary Relief Expedition" (1893); "The Earth and Its Story" (1896); "Alaska and the Klondike" (1899); "Mount Pelée and the Tragedy of Martinique" (1903).
Bibliography:
Appleton's Encyc. of American Biog.;
Who's Who in America;
International Encyclopedia.
A.
F.
H.
V.