LIEBERMANN, MAX:
German painter; born at Berlin July 29, 1849. After studying law at Berlin University for a year, he abandoned it and took up the study of painting at Weimar in 1869 under Thumann and Pawels. In 1872 he went to Paris, and during 1876-77 resided in Holland; after living for some time in Munich he finally returned to Berlin.
His paintings include: "Gänserupferinnen"; "Amsterdamor Waisenmädchen"; "Das Tischgebet"; "Strasse in Zandvoort"; "Kleinkinderschule in Amsterdam"; "Münchner Bierkonzert"; "Die Spinnerinnen"; "Die Konservenmacherinnen"; "Stille Arbeit"; "Die Schweinefamilie"; "Altmännerhaus in Amsterdam"; "Trauergottesdienst"; "Holländische Dorfstrasse"; "Der Weber"; "Netzeflickerinnen"; "Spitalgarten in Leiden"; "Biergarten in München"; "Flachsscheuer in Holland"; "Frau mit Ziegen"; "Bürgermeister Petersen"; "Viehmarkt in Haarlem." Some of these works are in private collections; others are in the Kunsthalle, Hamburg; the Nationalgallerie, Berlin; the Neue Pinakothek, Munich; the Strasburg Museum; the Leipsic Museum; and various other public galleries of Europe.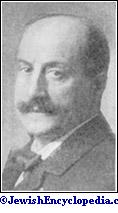 Max Liebermann.
Liebermann at first expressed the extreme tendencies of the modern realistic school, and illustrated the darker sides of life; his earlier works were exhibited in Paris in 1875, 1876, and 1877 ("Runkelrübenernte," "Arbeitssaal im Amsterdamer Waisenhaus," etc.), and at Munich in 1879 ("Jesus im Tempel"). In later years, however, he has turned toward the naturalistic school, producing a number of genre paintings and expositions of Dutch rural life. He has excelled also as an etcher. Liebermann won the small medal of the Berlin and of the second Munich expositions.
Bibliography:
Kämmerer, Max Liebermann, Leipsic, 1893;
Meyers Konversations-Lexikon;
Allgemeines Künstler-Lexicon, Frankfort-on-the-Main, 1898.
S.
F.
T.
H.