LOEWY, MAURICE:
Astronomer; born at Vienna, Austria, April 15, 1833. A descendant of a Hungarian family, he received his education at his native city, where he was employed at the observatory. In 1860 he was called to the Paris Observatory as assistant astronomer, being appointed astronomer in 1864. In 1865 he became a French citizen. In 1872 he was appointed a member of the Bureau des Longitudes; in 1873 he was elected to the French Institute (Académie des Sciences); in the same year he became assistant director and in 1896 director of the Paris Observatory.
Loewy since 1878 has been editor of "Ephémérides des Etoiles de Culmination Lunaire," and since 1896 of the "Rapport Annuel sur l'Etat de l'Observatoire de Paris." He has invented several important astronomical instruments, among which is especially well known his "equatorial coudé" or elbow-telescope, with which he has secured the best photographs of the moon. He has published with Puiseux since 1896 the "Atlas Photographique de la Lune."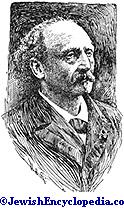 Maurice Loewy.
Among Loewy's numerous essays and works may be mentioned: "Nouvelles Méthodes pour la Détermination des Orbites des Comètes," 1879; "Des Eléments Fondamentaux de l'Astronomie," 1886; "De la Constance de l'Aberration et de la Réfraction," 1890; "Du Coefficient de l'Elasticité," 1892 (with Tresca); "De la Latitude et des Positions Absolues des Etoiles Fondamentales," 1895.
Loewy's "Mémoires" have been published in the "Comptes Rendus de l'Académie des Sciences" and in the "Annales de l'Observatoire."
Bibliography:
Curinier, Dict. Nat. iii. 12;
La Grande Encyclopédie, xxii. 415;
Nouveau Larousse Illustré, v. 730;
Meyers Konversations-Lexikon.
S.
F.
T.
H.