MENDÈS, CATULLE:
French poet, dramatist, and art critic; born at Bordeaux May 22, 1841. Educated in his native city, he went in 1859 to Paris, where he has since resided. In 1861 he founded the "Revue Fantaisiste" and in 1864 the "Parnasse," later "La République des Lettres." Since 1893 he has published an annual, under the title "L'Art au Théâtre," containing the articles on music and the drama which he has contributed during the year as critic to the "Journal."
Mendès is the author of a large number of works both in prose and in verse. A perfect stylist, he is nevertheless inclined to the sensual; his "Le Roman d'une Nuit," which appeared in the "Revue Fantaisiste" (1867), was condemned as an immoral novel, and Mendès was sentenced to a month's imprisonment and a fine of 500 francs for publishing it. Of his works may be cited: In verse: "Philomène," 1863; "Odelettes Guerrières," 1871; "La Colère d'un Franc-Tireur," 1872; "Le Soleil de Minuit," 1876; "Nouveaux Contes Epiques," 1885; "Les Vains Amours," 1896. Novels: "Histoires d'Amour," 1868; "Les 73 Journées de la Commune," 1871; "Les Folies Amoureuses," 1877; "Le Roi Vierge," 1881; "Les Monstres Parisiens," 1882-85; "Grand Magnet," 1888; "Rue des Filles-Dieu," 1893; "Le Chercheur de Tares," 1897. Most of these works have passed through several editions. Dramas: "La Part du Roi," 1872; "Justice," 1877; "Gwendoline," 1886; "Isoline," 1888; "Fiammette," 1889; "Médée," 1898. All his pieces have been produced at the theaters of Paris, and have been well received.
Mendes Pedigree.—American Branch.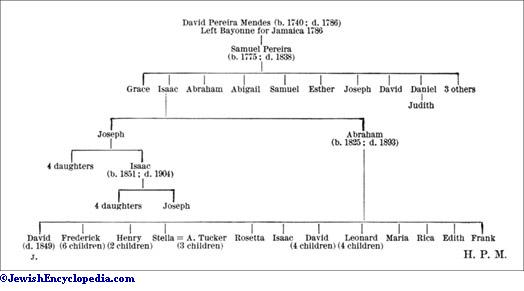 In 1894 Mendès received the cross of the Legion of Honor.
Bibliography:
Curinier, Dict. Nat.;
La Grande Encyclopédie;
Nouvelle Larousse Illustré;
Meyers Konversations-Lexikon.
S.
F.
T.
H.