OPPENHEIM, MORRIS SIMEON:
English lawyer; born in London 1824; died there Jan. 3, 1883; son of Simeon Oppenheim, secretary of the Great Synagogue. He became secretary to the Jews' and General Literary Institution (Sussex Hall), and while acting in this capacity studied for the bar. He was admitted as a student to the Middle Temple Nov. 9, 1854, and was called to the bar in 1858. As a special pleader he was a member of the southeastern circuit, the Surrey sessions, the Surrey assizes, and practised in the lord mayor's court.
Oppenheim undertook important communal work. He served on the Law and Parliamentary committees of the Board of Deputies, London, of which he was elected a member in 1869. To the marriage laws as they affected Jews, Oppenheim devoted much attention; and he wrote the chapter on that subject in Picciotto's "Sketches of Anglo-Jewish History." As warden of the Central Synagogue he took a conspicuous part in the deliberations of the council of the United Synagogue, and prepared the by-laws of the constituent synagogues.
Oppenheim died by his own hand, having suffered for some time from attacks of depression.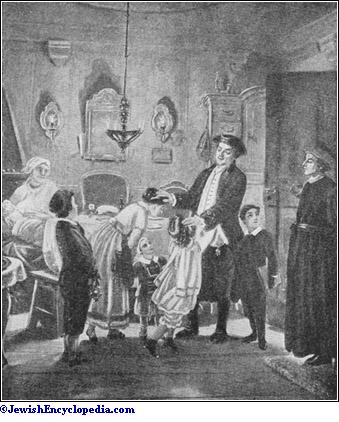 "Sabbath Blessing."
(From a painting by Moritz Daniel Oppenheim.)
Bibliography:
Jew. Chron. and Jew. World, Jan. 5, 1883.
J.
G.
L.