OPPENHEIMER, SIR CHARLES:
British consul-general at Frankfort-on-the-Main; born at Nastätten, Nassau, 1836; died at Frankfort June 21, 1900. He received his education in the latter city, and, emigrating to London at the age of eighteen, established himself as a general merchant. Oppenheimer soon built up a flourishing concern, and, after remaining head of his firm for seventeen years, retired in 1871 to Frankfort. Here he threw himself into every benevolent work, especially assisting specifically Jewish charities. In 1880 he received the honorary appointment of British consul for Frankfort-on-the-Main, the province of Hesse-Nassau, and the grand duchy of Hesse. Two years later he was promoted to the consul-generalship of that district and of the grand duchy of Baden.
The English government highly appreciated Oppenheimer's work; and in 1892 Queen Victoria conferred on him the honor of knighthood, which was followed in 1897 by the Jubilee Medal. The reigning princes of several of the German states also conferred on him many decorations.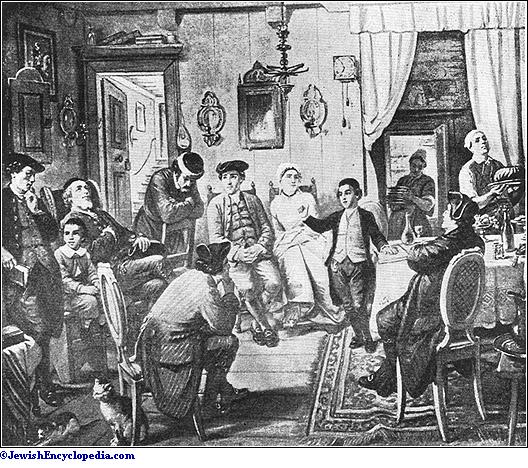 "Confirmation."
(From a painting by Moritz Daniel Oppenheim.)
Bibliography:
Jew. Chron. and Jew. World, June 29, 1900.
J.
G.
L.