PEIXOTTO:
American Jewish family, originally from Spain, whence members thereof migrated by way of Holland to Curaçao, in the West Indies. The original name of this family was Maduro, but while still in Spain a Maduro married a Peixotto and adopted the name of his wife. There are records of the burial in Holland of a child of Joshua Cohen Peixotto (d. April 10, 1625), and of Dona Ester (d. Sept. 21, 1618), wife of Moses Peixotto.
About 1807 the Peixottos settled in New York. This family is connected with the Pipsoto family of Jamaica and with the Picciottos of England. By intermarriage the Peixottos have become united with other prominent and even older American Jewish families—the Cardozo, Hays, Seixas, Gomez, Davis, Nathan, Naar, and Phillips families. Among the more prominent members of the family are the following:
Benjamin Franklin Peixotto:
Son of Daniel Levy Maduro Peixotto (1800-43); American consul, lawyer, and journalist; born in New York Nov. 13, 1834; died there 1890. After his father's death he went to Cleveland, Ohio. As a youth he was intimate with Stephen A. Douglas, became active in politics, and warmly supported Douglas' candidacy for the presidency. At this time he was one of the editors of the "Cleveland Plain Dealer." Joining the order of B'nai B'rith, he was elected, when only twenty-nine years of age, grand master of the order (1863). In Cleveland he was influential in the establishment of an orphan asylum and was one of the founders of the Case Library. In 1866 he returned to New York, but in 1867 left for California, where he settled in San Francisco and established a lucrative law practise.
In 1870, at the time of the Rumanian Jewish persecutions, Peixotto was appointed by President Grant as consul-general to Rumania. The intimacy and friendship which soon arose between Prince Charles of Rumania and himself assisted him greatly. During the six years he remained at Bucharest only the riots of Ismail and Bessarabia disturbed the peace. His reports to the United States government resulted in that government addressing letters to its ministers at the various European courts inviting cooperation in the humane endeavor to stop Jewish persecution in Rumania. Peixotto's reports were also the cause of a great meeting at the Mansion House in London which called forth Lord Shaftesbury's message of sympathy. Peixotto was instrumental, too, in founding the Society of Zion in Rumania, an organization with similar aims to the B'nai B'rith; and it was his influence as a United States official, his intimacy with the European philanthropists, and the force of his own personal magnetism that finally caused the calling of the conference of Brussels to which he was a delegate, and which culminated in the action taken by the Berlin Congress of 1878, when Rumania acquired the status of a sovereign kingdom only upon the express condition that the civil and political rights of the Jews should be recognized.
Peixotto Pedigree.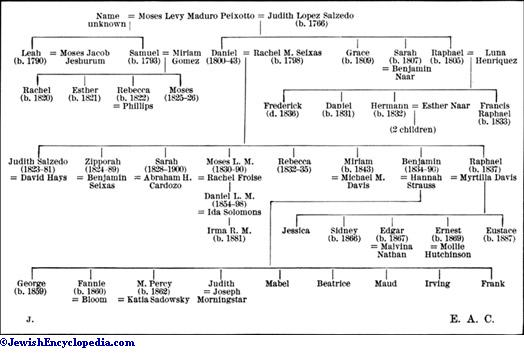 Upon his return to America in 1876, Peixotto was received with honor and invited to deliver many addresses in various sections of the country. At this time he aided in forming the Union of American Hebrew Congregations. He used his influence toward the election in 1876 of President Hayes, who appointed him United States consul at Lyons, France. In 1885 he returned to the United Statesand resumed the practise of law in New York city. In July, 1886, he founded the "Menorah" (monthly; New York). He served as one of the trustees of the Hebrew Technical Institute, of the Sanitary Aid Society, and of Temple Israel (New York), and was one of the founders of the Ohio Society. In 1858 he married Hannah Strauss of Louisville, Ky.
Daniel Levy Maduro Peixotto:
Eldest son of Moses Levy Maduro Peixotto (1767-1828); physician, scholar, author, and philanthropist; born in Amsterdam July 18, 1800; died in New York 1843. He was educated in Curaçao under the direction of Professor Strebeck. He accompanied his father to New York and graduated from Columbia College at the age of sixteen, receiving the degree of Doctor of Medicine in 1819. He was a member of the old Philolexian Society of the college, the membership of which society still includes the names of his descendants. Prior to taking his degree he had entered the office of Dr. David Hosack, at one time physician to George Washington. Peixotto was one of the editors of the "New York Medical and Physical Journal" and of "Gregory's Practice" (1825-26) and was a frequent contributor to the periodicals and newspapers of the day. Later on he edited "The True American," advocating the election of Gen. Andrew Jackson, and he was also connected with the "New York Mirror."
Among the many offices held by him were the following: secretary of the Academy of Medicine (1825); physician to the City Dispensary (1827); and president of the New York Medical Society (1830-32); he was also one of the organizers of the Society for Assisting the Widows and Orphans of Medical Men.
The title of Professor of the Theory and Practise of Medicine and Obstetrics was given him in 1836, and in the same year he was elected to honorary membership in the Medical Society of Lower Canada. Having accepted the appointment of president of the Willoughby Medical College, he removed to Cleveland, Ohio, where he was dean of the faculty for a number of years. Returning to New York, he resumed his practise there, and continued it until his death. He married Rachel M. Seixas, the daughter of Benjamin Seixas, March 19, 1823.
Daniel Levy Maduro Peixotto:
Son of Moses Levy Maduro Peixotto (1830-90); captain of the Third Regiment United States Volunteer Infantry; born in New York March 17, 1854; died at Guantanamo, Cuba, Oct. 24, 1898, from the effects of fever contracted during the Spanish-American war. For many years he was connected with the Seventh Regiment, State of New York, as corporal of Company B, and received the faithful service medal in that regiment. After his removal to Washington he served on General Ordway's staff as captain and aide-de-camp (1888). At the outbreak of the Spanish-American war he volunteered, and served with the Third United States Volunteer Infantry, first as first lieutenant and acting quartermaster, and then as captain of Company D. At the time of his death he was military governor and provost marshal of Guantanamo. He married Ida Solomons, daughter of Adolphus S. Solomons, in 1880. His only child, Irma R. M. Peixotto, was born in New York Jan. 10, 1881. She is a frequent contributor to the periodicals of the day and to children's magazines, both as writer and illustrator.
Edgar D. Peixotto:
Son of Raphael Peixotto; born in New York Nov. 23, 1867. He is a prominent lawyer in San Francisco, and was at one time assistant district attorney of that city.
Ernest Peixotto:
Son of Raphael Peixotto; American painter; born in New York Oct. 15, 1869. He studied at the Académie Julien in Paris for five years under Benjamin Constant and Jules Lefèbvre. His work has been exhibited in the Paris Salon. He exhibited also at the Columbian Exposition held in 1893.
George D. M. Peixotto:
Eldest son of Benjamin Franklin Peixotto; American artist; born in Cleveland, Ohio, 1859. His early youth was passed in the United States, but upon the appointment of his father as consul to Rumania (1870) he entered the Royal Academy of Fine Arts in Dresden. In 1877, on graduation, he was awarded the silver medal of the academy for his "St. Mary the Egyptian." This was the beginning of an artistic career, which was interrupted by his appointment as United States vice-consul at Lyons by President Garfield.
Peixotto has painted the portraits of President McKinley, Cardinal Manning, John Hay, William Windom, Chief Justice Morrison R. Waite, Victorien Sardou, Sir Moses Montefiore, and Bishop Gilmour of Cleveland. Peixotto is known also in the field of mural decoration; he executed notable work of this character for the New Amsterdam Theater and the Criterion Club (New York).
Jessica Blanche Peixotto:
American educationist; only daughter of Raphael Peixotto; born in New York. She graduated from the University of California in the year 1894, to which she returned after a year's study in the Sorbonne, Paris. In April, 1900, she took the degree of Doctor of Philosophy, being the second woman to receive the Ph.D. degree from that university. Her doctor's dissertation was published under the title of "The French Revolution and Modern French Socialism." Soon afterward she received the appointment of lecturer in socialism in the University of California, which position she now (1904) holds.
M. Percy Peixotto:
Brother of George D. M. Peixotto; one of the governors of the American Chamber of Commerce at Paris; born in Cleveland, Ohio, Oct. 4, 1862. He studied at the Lycée et l'Ecole de Commerce de Lyon, France. For many years he has been associated with the Equitable Life Insurance Company of New York as general supervisor of its Continental business, residing in Paris, where he is one of the leading members of the American "colony." He rendered active and valuable service to the Paris Exposition of 1900, serving as American representative on several committees. He was one of the committee appointed in connection with the presentation of the Lafayette monument. Peixotto is a Chevalier of the Legion of Honor.
Moses Levy Maduro Peixotto:
Rabbi and merchant; born in Curaçao 1767; died in New York 1828. After the death of his first wife he traveled for some time, and during his visit to Amsterdam married (July 19, 1797) Judith Lopez Salzedo. Returning to Curaçao he engaged in an extensive mercantilebusiness. On June 11, 1807, he landed in America from one of his own vessels. Owing to the Embargo Acts Peixotto was not able to return with American goods; he became therefore an American citizen. He continued his mercantile career in Front street. When the Congregation Shearith Israel lost its rabbi, Gershom Mendes Seixas, he volunteered his services to the congregation, which he served for many years, at first gratuitously as acting rabbi, and then as rabbi; he held this position at the time of his death.
Moses Levy Maduro Peixotto:
Eldest son of Daniel Levy Maduro Peixotto (1800-43); soldier and pharmacist; born in New York 1830; died there 1890. He was a member of the Seventh Regiment of the State of New York, and served with it during the Civil war. He later held the rank of captain. As a pharmacist he was connected with the New York Free Medical Dispensary and was a trustee of the College of Pharmacy of the City of New York.
Raphael Peixotto:
Son of Daniel Levy Maduro Peixotto (1800-43); president of Congregation Emanu-El, San Francisco; born in New York 1837. He removed to San Francisco in 1870 and engaged in a mercantile career. He is identified with a number of Jewish institutions in San Francisco.
Sidney Peixotto:
Son of Raphael Peixotto; born in New York May 28, 1866. Almost his entire life has been passed in San Francisco, where he has displayed the most ardent and practical interest in the best forms of charitable endeavor. The Columbia Park Boys' Club, of which he is the founder and leader, is one of the finest institutions of its kind in existence. He is also a major in the California National Guard.
Bibliography:
General Register, Congregation Shearith Israel, i. 66, New York;
J. J. Benjamin, Drei Jahre in Amerika;
Markens, The Hebrews of America;
Joseph Pipsoto, History of the Jews in Jamaica, ch. xviii.;
Jamaica Daily Telegraph, 1900;
Jew. Chron. and Jew. World, Oct. 24, 1879;
Picciotto, Sketches of Anglo-Jewish History, London, 1875;
Appleton's Cyclopedia of American Biography;
Voorsanger, Chronicles of Emanuel;
Who's Who in America, 1904;
American Jewish Year Book, 1904;
The Menorah (New York), vol. i. (Maimonides Library), vol. ix. (1890);
Occident, ii. 168;
Publications Am. Jew. Hist. Soc. ii. 51, 63; iv. 132; x. 65; xi. 151;
Simon Wolf, The American Jew as Patriot, Citizen, and Soldier, pp. 428-542;
Daly, Jews in North America, pp. 56-57;
Morais, Eminent Israelites of the Nineteenth Century, pp. 265, 267, 271, 355;
idem, Jews of Philadelphia, pp. 128, 149, 151, 274;
D. Henriques de Castro, Keur van Grafsteenen op de Nederl.-Portug.-Israel. Begraaf plaats te Oudekerk aan den Amstel, Leyden, 1883.
A.
E.
A.
C.