POSSART, ERNST VON:
German actor and author; born at Berlin May 11, 1841. When seventeen years old he was apprenticed to the Schroeder'sche Buch- und Kunst-Handlung, a well-known publishing-house in Berlin, where he became acquainted with the actor Kaiser, who offered to teach him elocution without compensation. After studying for three years, Possart, in 1861, made his début at the Urania amateur theater, Berlin, as Riccaut in "Minna von Barnhelm" and lago in "Othello," and with such success that he was engaged to play second character rôles at the city theater of Breslau. There he stayed till 1862, when he accepted an engagement at a Berlin theater, to play leading parts. The following year he was in Hamburg, impersonating the characters formerly undertaken by Görner. From 1864 to 1887 he was connected with the Munich Royal Theater, playing the leading rôles, and becoming in 1873 chief stage-manager ("Oberregisseur"). In 1878 he received the titles of professor and director of the Royal Theater. During his vacations he accepted engagements at the principal German theaters in Europe. From 1880 he produced plays in Munich, with all-star casts. During the five years following his resignation (1887-92) he starred at the leading theaters, visiting America in 1888 and 1890. In 1892 he returned to the Royal Theater as "Generaldirektor," becoming "Intendant" in 1895 and being knighted by the crown of Bavaria. He still (1905) resides in Munich.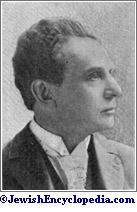 Ernst von Possart.
His talent as actor and manager is equally great; his judgment of the capability of different actors is remarkable, always recognizing and assigning to each individual the part most suited to him; and he has the faculty of giving life and importance to minor parts. He is also very successful as an instructor, having been the teacher of many actors now prominent.
Possart is at present the foremost of German actors. His repertoire is manifold. He has appeared in Schiller's dramas as Franz Moor, Burleigh, Talbot, Landvogt Gessler, König Philipp, and Octavio Piccolomini; in Lessing's, as Nathan der Weise and Marinelli; in Goethe's, as Carlos, Mephisto, Antonio, Alba, and Vansen; in Shakespeare's, as King John, Richard II., Richard III., Hamlet, Lear, Shylock, and lago; in Byron's "Manfred" as Manfred; in Björnson's "Fallissement" as Berent; in Töpfer's "Des Königs Befehl" as Friedrich der Grosse; and in Heigel's "Josephine Bonaparte" as Napoleon. One of his greatest characters is that of the Jew in "L'Ami Fritz."
Under Possart's directions was built the Prinzregenten Theater at Munich, where under his management the great works of Wagner and Mozart have been ably reproduced.
Possart is the author of: "Königliche Theaterschule München," 1877; "Ueber die Gesammtaufführung des Goethe'schen Faust," 1895; "Die Neueinstudierung und Neuaufführung des Mozart'schen Don Giovanni, der Zauberflöte, des Wallenstein"; "Das Recht des Herzens," drama, 1898; "Im Aussichtswagen," comedy, 1898; "Aus Meinen Erinnerungen," Munich, 1901 (first appeared in the "Münchner Allgemeine Zeitung"); "Festvortrag in der Deutschen Shakespeare Gescllschaft zu Weimar," Weimar, 1901. He has also edited Shakespeare's "King Lear" (1875), "The Merchant of Venice" (1880), "Coriolanus" (1882), and "Pericles" (1884).
Bibliography:
Meyers Konversations-Lexikon;
Brockhaus Konversations-Lexikon.
S.
F.
T.
H.