RACHEL ( = "a ewe").
—Biblical Data:
Laban's younger daughter, who became one of Jacob's wives (Gen. xxix. 26-28). Her first meeting with Jacob occurred at a well near Haran, whither she had taken the flocks for water. As she was beautiful and well favored, Jacob fell in love with her and agreed to serve Laban for seven years on the condition that at the end of that time Rachel should become his wife. Through the fraud of Laban, Jacob's marriage with Rachel took place after he had married her elder sister, Leah, who, though less loved than Rachel, became the mother of four sons, while the latter was childless. This filled Rachel with envy, and, having expressed her feelings to Jacob, she bade him take her handmaid Bilhah to wife in order that she might obtain a family through her (xxix. 9-12, 17-18, 31; xxx. 3).
Later, Rachel became the mother of Joseph (xxx. 22-24). Rachel and Leah persuaded their husband to flee from Laban's house, and at the moment of Jacob's flight Rachel stole her father's teraphim. She put them in the "furniture" of the camel on which she sat, and when her father came to search for them she pleaded sickness (xxxi. 14-16, 19, 34-35). At his meeting with Esau, Jacob showed his particular affection for Rachel by placing her last, with her son Joseph (xxxiii. 2, 7). Jacob was on his way back to his native country when Rachel died while giving birth to her second son, Benjamin. Her death occurred not far from Ephrath, and she was buried on the road leading thither, Jacob setting up a pillar on her grave to perpetuate her memory (xxxv. 16-20). Rachel and her sister Leah are mentioned as the two women who founded the house of Israel, Rachel, though younger, being mentioned first (Ruth iv. 11). Jeremiah represents Rachel, weeping for her children being driven into captivity, as the personification of tenderness (Jer. xxxi. 14).
E.
G.
H.
M.
Sel.
—In Rabbinical Literature:
Rachel and Leah were twin sisters, fourteen years old when Jacob came to their father's house; consequently they were twenty-one years old at the time of their marriage to Jacob (Seder 'Olam Rabbah ii.). The terms "elder" and "younger," applied respectively to Leah and Rachel (Gen. xxix. 16), are explained by the Rabbis as referring to the divine gifts bestowed upon their descendants; for while royalty and the priesthood remained permanently with Leah's descendants, they were held only temporarily by Rachel's—royalty with Joseph and Saul, and the priesthood with the tabernacle of Shiloh (Gen. R. lxx. 15). In other respects the two sisters were alike, both being ancestresses of kings, heroes, prophets, judges, and conquerors (ib. lxx. 14; Tan., Wayeẓe, 13).
Rachel and Leah.
When Jacob met Rachel near the well, and proposed to marry her, she informed him that she had an elder sister, and that as her father was of a deceitful nature, he (Jacob) would be imposed upon. Jacob replied that he was her father's equal in trickery; and he agreed with Rachel upon certain signs which would enable him to recognize her. Later, when Leah was given in marriage instead of Rachel, the latter revealed the signs to her sister in order to spare her from being disgraced by Jacob. It was through the merit of her discretion that Rachel became the ancestress of King Saul, who also was discreet (Meg. 13b; B. B. 123a; Midr. Agadah to Gen. xxix. 12; Targ. pseudo-Jonathan ad loc.).
Rachel's envy at her sister's fertility (comp. Gen. xxx. 1) is only once (Gen. R. xlv. 6) interpreted by the Rabbis as indicating one of the characteristics of women. Most of the Rabbis consider the idea of Rachel being an envious woman as incompatible with what has been previously said of her. They declare that Rachel was not envious of her sister's fertility, but of her righteousness; she thought that if Leah had not been a better woman than she, she would not have had children. Besides, Rachel was afraid that her father, seeing that she had no children by Jacob, might marry her to Esau (Midr. Agadat Bereshit li. 1; Gen. R. lxxi. 9). She therefore insisted that Jacob pray to God for children, arguing that his father, Isaac, had done so(comp. Gen. xxv. 21). Jacob objecting on the ground that his father had one wife only, while he himself had two, and that though one of them was childless, he had children by the other, she urged him to follow Abraham's example, and to take her handmaid for a wife (Midr. Agadat Bereshit l.c.; comp. Midr. Agadah to Gen. xxx. 1; Tan., Wayeẓe, 19; Gen. R. lxxi. 10). According to the "Sefer ha-Yashar" (section "Wayeẓe," p. 46a, Leghorn, 1870), Rachel herself prayed God to give her children, and God finally answered her prayer.
Her Self-Abnegation.
In the episode of the mandrakes, when Leah reproached her sister for having robbed her of her husband (Gen. xxx. 14-15), Rachel's feelings were wounded, and she replied bitterly: "Jacob is not thy husband; he is mine. It was for my sake that he came here and served our father for so many years. Had I not revealed to thee our signs, he would never have become thy husband" (Midr. Agadah to Gen. xxx. 15). The affair of the mandrakes is generally represented by the Rabbis as unfavorable to Rachel; and it was due to her mode of obtaining them (comp. Gen. l.c.) that she was not buried in the cave of Machpelah by the side of her husband (Gen. R. lxxii. 2). God remembered Rachel on Rosh ha-Shanah (Ber. 29a; R. H. 11a), and it was particularly her self-abnegation at the time of her sister's marriage which gained for her the divine clemency (Gen. R. lxxiii. 2; Midr. Agadah to Gen. xxx. 22).
Rachel's words at the birth of Joseph, "The Lord shall add to me another son" (Gen. xxx. 24), show that she was a prophetess. She knew that Jacob was to have only twelve sons, and, Joseph being the eleventh son, she prayed for only one son more (Tan., Wayeẓe, 20). According to Gen. R. (lxxii. 6), this prayer of Rachel caused Leah's seventh child, which at the time of conception was a son, to be transformed into a daughter; otherwise Rachel would have been the mother of only one son (comp., however, Ber. 60a, and Targ. pseudo-Jonathan to Gen. xxx. 21).
The Rabbis differ as to the reason why Rachel stole her father's teraphim. Some consider that she did so in order to conceal Jacob's flight; others, that her object was to turn her father from idolatry (Pirḳe R. El. xxxvi.; Gen. R. lxxiv. 4; "Sefer ha-Yashar," section "Wayeẓe," p. 47a).
As Rachel's death occurred fifteen years after her marriage, she must have died at the age of thirty-six (Seder 'Olam Rabbah l.c.; Midr. Tadshe, in Epstein, "Mi-Ḳadmoniyyot ha-Yehudim," Supplement, p. xxi., where the number 37 must be corrected to 36). The "Sefer ha-Yashar" (section "Wayishlaḥ," p. 56b), however, gives her age at the time of her death as forty-five. Rachel's early decease was due, according to the general opinion of the Rabbis, to Jacob's involuntary curse uttered when Laban was searching for the teraphim, "With whomsoever thou findest thy gods, let him not live" (Gen. xxxi. 32), he not knowing that Rachel had taken the images. R. Judan's opinion, however, was that Rachel died before Leah because, although she was the younger sister, she spoke before Leah when they were addressed by their husband (ib. xxxi. 14; Midr. Agadat Bereshit li. 3; Pirḳe R. El. l.c.; Gen. R. lxxiv. 3, 6).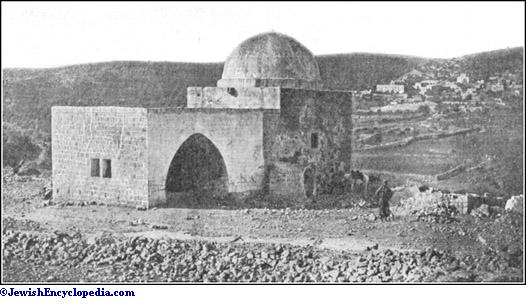 Traditional Tomb of Rachel.
(From a photograph by Bonfils.)
"Rachel Mourning for Her Children."
Rachel's death was so deeply felt by Jacob that he considered it the greatest of all his sorrows (Ruth R. i. 3). He buried her on the road to Ephrath because he foresaw that the Israelites, when driven into captivity along that road, would need her intercession with God in their behalf (Midr. Agadah toGen. xxxv. 19; Gen. R. lxxxii. 11). Jer. xxxi. 15 (see Biblical Data, above) is the source of the midrashic legend that when the Israelites were driven into captivity by Nebuzar-adan, and the supplications of the Patriarchs and of Moses proved of no avail, Rachel arose from her grave and implored God's clemency, basing her plea upon her own self-abnegation with regard to her sister. God thereupon promised her the restoration of Israel (Lam. R., Petiḥta, 25).
Rachel was one of the four Jewish matriarchs, all of whom were prophetesses (Ber. 60a), and who are often referred to in the liturgy, Rachel being mentioned before Leah. As the four different plants with which the Jews were commanded to celebrate the Feast of Tabernacles (Lev. xxiii. 40) are considered by the Rabbis to symbolize the four matriarchs, Rachel, who died the youngest, they consider symbolized by the willows of the brook, which fade sooner than any other plant (Lev. R. xxx. 10).
E.
C.
M.
Sel.