RIVKIN, MIRON DAVIDOVICH:
Russian writer; born in Vitebsk in 1869. His father, who was employed as clerk in the police department, was a Talmudist of no mean ability. Rivkin obtained his early education in the ḥeder, where he showed marked ability in acquiring a knowledge of the Old Testament and of the Talmud. In 1881 he entered the government Jewish school in Vilija, and in 1884 the Jewish Teachers' Institute in Wilna. In the institute he led a studious life and became familiar with Russian history and literature. Graduating in 1889, he was appointed instructor in the government Jewish school at Volozhin, and was transferred in 1891 to Molodejno and in 1895 to Minsk. In 1897 he left the government service and accepted the position of instructor in the Jewish schools of St. Petersburg.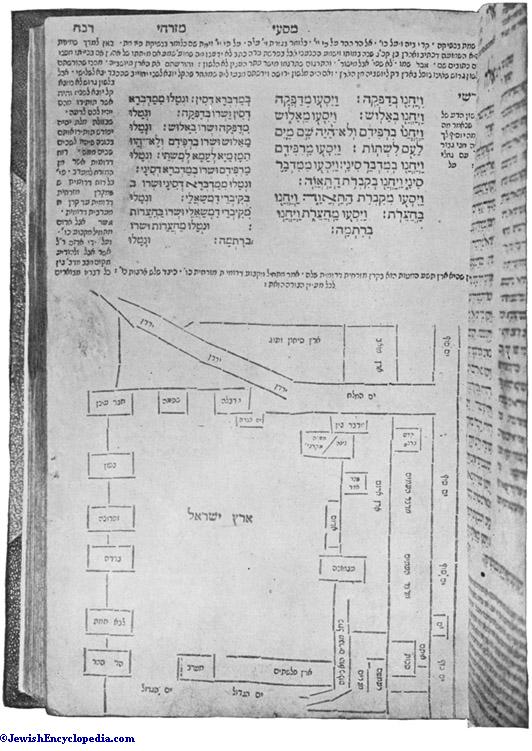 Page from Hebrew Bible Printed at Riva di Trento, 1561.
(From the Sulzberger collection in the Jewish Theological Seminary of America, New York.)
Rivkin's first literary efforts date from his student days in Wilna. While in the institute he wrote a long poem entitled "Dorothea Mendelssohn," and also a historical play in verse entitled "John Hyrcanus." His sketches, "Poslyedniye Gody Volozhinskavo Yeshibota," appeared in the "Voskhod" in 1895, and a series of feuilletons signed "Makar" were contributed by him in 1897 to the same journal. In 1898 he published in "Ruskoe Bogatstvo" the sketch "Nad Salnoi Svyechkoi"; and in 1900 he published a collection of sketches entitled "V Dukhotye." He is at present (1905) a contributor to the "Budushchnost."
H.
R.
J.
G.
L.