SALOMONS:
English family descended from Solomon Salomons, a London merchant on the Royal Exchange in the eighteenth century. The following are the principal members:
Levi (Levy) Salomons:
London financier and underwriter; born Jan. 16, 1774; died Jan., 1843. He lived at one time in Crosby Square, a few doors from the Great St. Helen's Synagogue, of which he was one of the principal wardens and the representative on the Board of Deputies up to the time of his death. He acquired a valuable collection of scrolls of the Law, some of which he bequeathed to his own synagogue. He married Matilda de Mitz, of Leyden, Holland, and had a family of three sons and three daughters.
Philip Salomons:
Eldest son of Levi Salomons; born May 30, 1796; died Jan. 28, 1867; lived at Brighton, Sussex. He married Emma, daughter of Jacob Montefiore, of Sydney, N. S. W., and had as issue a son and two daughters.
Sir David Salomons, Bart.:
First English Jew to become sheriff, magistrate, alderman, member of Parliament, and lord mayor of London; born Nov. 22, 1797, in London; died there July 18, 1873; second son of Levi Salomons, one of the chief Jewish merchants of London at the end of the eighteenth century; educated at London and Tottenham. He was one of the founders of the London and Westminster Bank in 1832, and became an under-writer in 1834. He was thus brought into personal association with the higher financial ranks of the metropolis, and he now determined on seeking the suffrages of his fellow citizens.
Salomons' claim to distinction rests on the courageous efforts he made to obtain the removal of Jewish disabilities. Having been admitted in 1831 by the Coopers' Company a freeman and liveryman of the city of London, in 1835 he became the first Jewish sheriff of London and Middlesex; and a special act of Parliament was passed to set at rest any doubts which might exist as to the legality of the election. He was the first Jew to be appointed magistrate for Kent (1838) and high sheriff of that county (1839-40) without being obliged to subscribe to the usual declaration, "on the true faith of a Christian." In 1835 he was elected alderman of Aldgate ward, in 1844 of Portsoken ward, and in 1847 of Cordwainer's ward, but was not admitted till the last-mentioned year. The former elections, however,had to be set aside owing to Salomons' refusal to subscribe to the regular oath. Sir Robert Peel, recognizing the hardship under which the Jews suffered, then introduced a bill in Parliament securing municipal privileges to his Jewish fellow subjects. In due course Salomons became the first Jewish lord mayor of London (1855). His mayoralty was a series of triumphs, his career at the Mansion House being one of exceptional brilliancy and popularity. He received the King of Sardinia at the Guildhall, and during his mayoralty the inscription on the London monument attributing the Great Fire of 1666 to the Roman Catholics was removed.
Salomons then became a candidate for Parliament and unsuccessfully contested Old Shoreham in 1837, Maidstone in 1841, and Greenwich in 1847; but he was returned as a Liberal for the last-mentioned borough in June, 1851. He declined to take the oath "on the true faith of a Christian," a proceeding which drew the attention of the whole country to the question of Jewish disabilities. Taking his seat in the House, he was ordered to withdraw after having been heard in defense of his unprecedented action, and was subsequently fined £500 for illegally voting (see England). The Greenwich constituency which he represented, however, reelected him again and again; but it was not until the alteration of the Parliamentary oath in 1858, after many futile attempts, that he was enabled to take his seat without further demur in 1859, one year after Baron Lionel de Rothschild had taken his oath and his seat as M. P. for the city of London. On the rebuilding of the House of Commons Salomons obtained possession of the actual seat which he had striven so valiantly to obtain and placed it in his country house as an heirloom. On Oct. 26, 1869, he was made a baronet of the United Kingdom with special remainder, in default of male issue, to his nephew David Lionel Salomons, who accordingly succeeded him.
Sir David Salomons was president of the Board of Deputies, of the Society of Hebrew Literature, of the Westminster Jews' Free School, and of the Jews' Hospital. He exerted himself in Parliament on behalf of the Jews in Gibraltar and Damascus, and sought to alleviate the condition of the Jewish working classes with reference to those provisions of the factory acts relating to Sunday labor.
He was twice married, but died without issue. By his will he left a legacy of £1,000 to the-Guildhall Library, which was applied in part to augmenting the collection of Jewịsh works presented by his brother Philip, and in part to the purchase of books on commerce and art. A catalogue of the former was subsequently published by A. Löwy. A testimonial which had been presented to Salomons by his coreligionists in 1836 was also left by him to the Guildhall.
Sir David was the author of: "A Defense of Joint-Stock Banks," 1837; "The Monetary Difficulties of America," 1837; "An Account of the Persecution of the Jews at Damascus," 1840; "Reflections on the Recent Pressure on the Money Market," 1840; "The Case of David Salomons," being an address which was delivered before the court of aldermen, 1844; "Parliamentary Oaths," 1850; and "Alteration of Oaths," 1853.
Bibliography:
Jewish Chronicle, Nov. 16, 1855; July 25, 1873;
Jewish World, July 25, 1873;
The Times (London), July 21, 1873;
Dictionary of National Biography;
City Press, July 26, 1873.
J.
G.
L.
I.
H.
David Lionel Salomons:
Second baronet, and electrician. He was born Jan. 28, 1851, and succeeded his uncle Sir David Salomons, under a special limitation, July 18, 1873. He married a daughter of Baron Herman de Stern.
Joseph Salomons:
Third son of Levi Salomons; born April 17, 1802; died Jan., 1829. He married, in 1824, a daughter of Joseph Monteflore. By this marriage he had three daughters, one of whom became the wife of Aaron Goldsmid of London; another, of Lionel Benjamin Cohen; and the third, of Prof. Jacob Waley.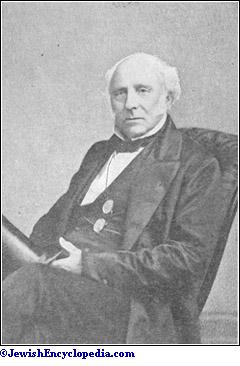 Sir David Salomons.
Bibliography:
Jewish Year Book, 1904;
Voice of Jacob, Feb. 3, 1843.
J.
I.
H.