SAN ANTONIO:
Largest city in Texas; founded by the Spaniards in 1718. Jews first settled there in 1854, when the cemetery was founded.
Samuel and Yates Pedigree.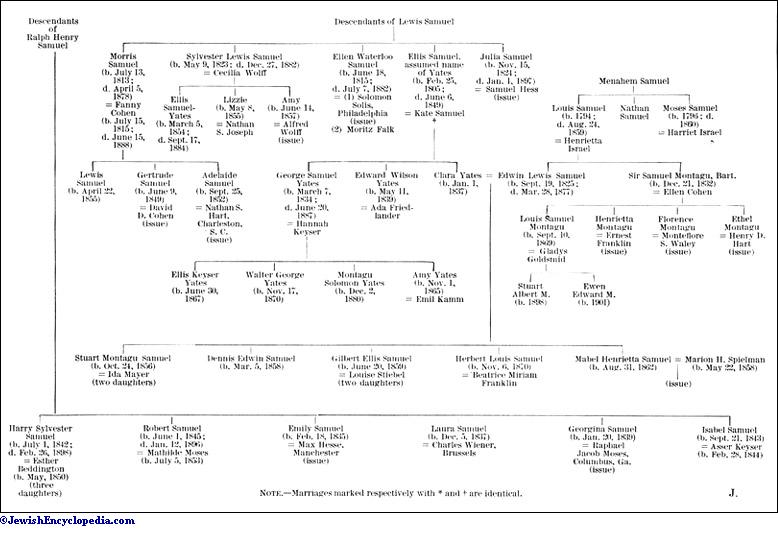 The Reform congregation Beth-El was organized May 31, 1874, although preliminary meetings had been held two years earlier, and the first service was held at the home of Abraham Morris, North Flores street. Ground was purchased in Travis Park and a synagogue erected. In 1903 a more commodious building was erected on the old site. The following rabbis have served the congregation: B. E. Jacobs, I. Lewinthal, M. P. Jacobson, H. Elkin, and Samuel Marks (the present, 1905, incumbent).
The Hebrew Benevolent Association was organized in 1856, and reorganized in 1866; in 1885 the name of the society was changed to Montefiore Benevolent Association. There is also a Ladies' Hebrew Benevolent Association in active operation. An Orthodox congregation was founded June 1, 1890, with a membership of 43. After it had met for eight years in private houses the present synagogue on Dwyer avenue was erected. Edar Lodge, No. 211, I. O. B. B., was organized June 24, 1874.
San Antonio has been the center of a number of Texo-Mexican conflicts. Moses Albert Levi, as surgeon-general in Sam Houston's army, was present at the storming of the Alamo by the Texans in Dec., 1835. Colonel Johnson's report of the capture of San Antonio, Dec. 5, 1835, says: "Doctors Levi and Pollard deserve my warmest praise for their unremitting attention and assiduity" (H. Cohen, "Settlement of the Jews in Texas," in "Publ. Am. Jew. Hist. Soc." 1894, p. 151; Baker, "Scrap-Book of Texas"). Upon the monument erected in Austin to the memory of the heroes of the Alamo, who perished March 6, 1836, is the name of A. Wolf (W. Corner, "San Antonio," p. 124). Simon Wolf, in "The Jew as Patriot, Soldier, and Citizen" (pp. 384-388), gives the names of Jews who were among the recruits from San Antonio in the Confederate army.
Members of the San Antonio community have been prominent in civil life: Alexander Nordhaus was for seven years justice of the peace; H. Silva Heimann, L. Zork, A. Lewy, and Alexander Michael have been aldermen; John Rosenheimer, county judge; S. C. Eldridge, attorney and counselor at law, member and secretary of the Democratic Executive Committee. Constance Pessels (Ph.D., Johns Hopkins University) holds the chair of English in San Antonio high school. Dr. Burg (M.D., Vienna) is prominent in communal affairs; Nat. M. Washer is president of the Beth-El congregation, and upon President Roosevelt's visit to San Antonio, April 7, 1905, was chosen by the citizens to make a presentation address; and the Oppenheimer brothers and the Halff brothers are prominent as bankers and merchants.
San Antonio has a population of 53,321, of whom 1,300 are Jews.
Bibliography:
H. Cohen, Settlement of the Jews in Texas, in Publ. Am. Jew. Hist. Soc. 1894, pp. 139-156;
American Jewish Year Book, 5661 (1900-1), pp. 617-618.
A.
H.
C.