SCHREIBER, MOSES B. SAMUEL (known also as Moses Sofer):
German rabbi; born at Frankfort-on-the-Main Sept. 14, 1763; died at Presburg Oct. 3, 1839. His mother's name was Reisil. At the age of nine he entered the yeshibah of R. Nathan Adler at Frankfort, and when only thirteen years old he delivered public lectures the excellence of which took his audiences by surprise. So great was the boy's fame that R. Phinehas Horowitz (Hurwitz), author of the "Sefer Hafla'ah," then rabbi of Frankfort, invited him to become his pupil. Schreiber consented, but remained under Horowitz for one year only, when he left for the yeshibah of R. Tebele Scheuer in the neighboring city of Mayenceyence, who gladly welcomed the boy. Scheuer gratuitously supplied all his wants, and Schreiber with increased energy and assiduity devoted himself to the study of the Talmud. All the prominent residents of Mayence took an interest in the boy's welfare and facilitated the progress of his studies.
In spite of his great devotion to Bible and Talmud Schreiber succeeded in acquiring a knowledge of secular sciences also, becoming proficient in astronomy, astrology, geometry, and general history. His teacher then gave him the rabbinical diploma, authorizing him to render decisions on questions of law. Yielding to the entreaties of his former teachers in Frankfort, Schreiber returned to his native city.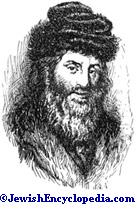 Moses Schreiber.
In 1782 R. Nathan Adler was called to the rabbinate of Boskowitz, and Schreiber followed him. From Boskowitz Schreiber went, at Adler's advice, to Prossnitz, where he married Sarah, the widowed daughter of R. Moses Jerwitz, by whom all his material wants were supplied for two years. He became head of the yeshibah at Prossnitz, and later accepted his first official position, becoming rabbi of Dresnitz, after he had procured the sanction of the government to settle in that town. In the year 1798, shortly before the Feast of Tabernacles, he resigned the rabbinate, and accepted that of Mattersdorf, Hungary. There he established a yeshibah, and pupils flocked to him. About this time he declined many other offers of rabbinates, but in 1803 accepted a call to Presburg. Here also he established a yeshibah, which was attended by about 500 pupils, many of whom became famous rabbis. He did not, however, enjoy his stay at Presburg, his activity in behalf of his people being hampered by the disturbances resulting from the war between Austria and France; and in 1812 his troubles were augmented by the death of his wife. After the lapse of some time he married Sarah, the daughter of Akiba Eger.
In 1819 the Reform movement among the Jews of Hamburg was initiated. Schreiber declared open war against the reformers, and attacked them in his speeches and writings with all the force at his command. In the same spirit he fought also the founders of the Reformschule in Presburg, which was established in the year 1827. This war against the reformers he prosecuted unremittingly for the remainder of his life.
Although in his early days an adherent of the Pilpul, Schreiber later discarded its methods. His lectures, which were very lucid, were presented in such a simplified form as to be easily understood by all his hearers. His relations to his pupils were tender in the extreme. He was likewise an efficient preacher; he was never sparing in his denunciation of evil-doers, and fearlessly attacked them irrespective of their position and standing in the community. He was moreover distinguished especially for his modesty as well as for his charitable deeds, being the founder of many benevolent institutions.
About 100 volumes were left by Schreiber in manuscript, of which the following have been printed: (1) "Ḥatam Sofer" (6 vols., Presburg, 1855-64), a collection of responsa; (2) "Ḥatam Sofer," consisting of "ḥiddushim" to many Talmudical treatises published at various dates and places; (3) "Shirat Mosheh" (ib. 1857), various poems of a cabalistic nature; (4) "Ẓawwa' at Mosheh" (Vienna, 1863), antemortem instructions to his children and descendants; (5) "Torat Mosheh" (Presburg, 1879-93), commentaries and notes on the Pentateuch; and (6) "Sefer Zikkaron" (Drohobicz, 1896), a narrative of the author's sufferings during the siege of Presburg. In addition to the foregoing works, ḥiddushim by him were included in several works of other authors.
Bibliography:
L. Landsberg, Biographie des Moses Sofer, Presburg, 1876;
S. Schreiber, Hut ha-Meshullash, vol. i., Munkacs, 1894;
Zedner, Cat. Hebr. Books Brit. Mus. p. 687.
E.
C.
B.
Fr.