SMOLENSKIN, PETER (PEREZ) BEN MOSES):
At Moghilef and Odessa.
Russian writer; born at Monastyrshchina, government of Moghilef, Feb. 25, 1842; died at Meran, Austria, Feb. 1, 1885. At the age of ten Smolenskin lost his father, and the support of the small family devolved upon his mother. At eleven Smolenskin began to attend the yeshibah of Shklov, where he studied for five years, and, aided by his brother Leon, managed to acquire, undetected, a knowledge of the Russian language. But being at last discovered reading profane literature, he began to be persecuted by the Mitnaggedim, the representatives of ultra-Conservative Judaism. Finding his further stay at Shklov impossible, he went to Lyubavich, provided with a letter of introduction to R. Mendel, the Ḥasidic rabbi there, with whom he stayed for a few months, until, disgusted with the intrigues of the Ḥasidim, he went to Moghilef; there he earned a livelihood as a synagogal singer and by preaching in a bet ha-midrash. From Moghilef, in 1862, he went to Odessa, and, while teaching Hebrew, took lessons in modern languages and in music. In 1867 he published in "Ha-Meliẓ" an essay on Meïr Letteris' work entitled "Elisha ben Abuyah," reproaching the author with having failed to grasp the meaning of Goethe's "Faust."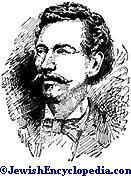 Peter Smolenskin.
Smolenskin's ambition was to become editor of a Hebrew periodical, and with this aim in view he left Russia. After a visit to Germany he went to Prague, where he found Rapoport dying. His elegy on Rapoport's death was published (Prague, 1867) under the title "Ḳinim wa-Hegeh," with a German translation. Smolenskin then (1868) resolved to go to Vienna to study philosophy, and in order to maintain himself while studying he acquired the calling of a shoḥeṭ (slaughterer). Compelled, however, to surrender his intention of entering the university, he found employment as corrector in the Hebrew department of Georg Brög's printing establishment, and through the help of Solomon Rubin was able to begin the publication of "Ha-Shaḥar." His sole purpose now was to fight the tendency toward obscurantism in Judaism, to arouse in the heart of Jewish youth the sense of Jewish nationalism and a love for the Hebrew language. Smolenskin became afterward the manager of Brög's printing-house, and assisted in various ways in the publication of Kohut's "Aruch Completum," which was printed under his supervision. When Isaac Hirsch Weiss criticized the work in "Bet Talmud" (i. 286-288, 317-324), Smolenskin published in its defense a long article entitled "Mishpaṭ ha-Shofeṭ" ("Ha-Shaḥar," x. 257 et seq., reprinted in book form under the title "Mishpaṭ ha-'Ashuḳim"). In 1874, when the persecution of the Jews in Rumania became known in Vienna,he was sent to the scene of trouble by the Alliance Israélite Universelle to ascertain the conditions, and in his report he proposed the establishment of schools in which the Rumanian language, history, and literature should be taught. His school plan, however, failed. In Feb., 1878, he began the issue of a popular Hebrew weekly entitled "Ha-Mabbiṭ," which expired with its twenty-sixth number.
Colonization.
About 1880 Smolenskin began to be interested in the colonization of Palestine. On seeing that the Alliance was opposed to this movement, encouraging instead emigration to America, he published in "Ha-Shaḥar" (x. 511-530) a violent attack upon that society, and even endeavored to effect the establishment of a Palestinian society. Failing in this, he joined Laurence Oliphant, through whom he hoped to secure the intervention of European powers in favor of the Jews.
Works.
Smolenskin's style of writing was unique. While he was a purist, endeavoring to model his Hebrew as nearly as possible after that of the Prophets, he did not heap up purely Biblical expressions, as did writers of the older school. He was, besides, a clever narrator, depicting his characters with the skill of an artist. It is no wonder, therefore, that his writings were read far and wide, and aroused in their readers the Hebrew national sentiment. The following is a list of his works: "Ha-Gemul" (Odessa, 1867), describing the attitude of the Jews in Warsaw during the Polish revolt of 1863 (adapted from Herzberg-Fränkel's "Polnische Juden"); "Ha-To'eh be-Darke ha-Ḥayyim" (Vienna, 1868-70); "Simḥat Ḥanef" (ib. 1872); "'Am 'Olam" (ib. 1873); "Mishpaṭ u-Ẓedaḳah" (ib. 1873), a critical review of Grätz's "Shir ha-Shirim" and Herzberg's "Die Jüdischen Familienpapiere"; "Ga'on we-Sheber" (ib. 1874), a novel describing the financial crisis at Vienna in 1873; "Ḳeburat Ḥamor" (ib. 1874), a work picturing the social life of the Russian Jews (Russian transl. by Mordecai Ḳahan, "Oslinnoye Pogrebenie," in "Razsvyet," 1881); "Gemul Yesharim" (3 vols., ib. 1876) and "Ha-Yerushshah" (3 vols., ib. 1878-84), two novels descriptive of Jewish life; "Neḳam Berit" (ib. 1884), a sketch of contemporary Jewish culture.
The "Simḥat Ḥanef," although printed after "Ha-To'eh," was nevertheless written before it. Smolenskin, who was a Biblical enthusiast, argued in this work that "Hamlet" and "Faust" echo respectively Ecclesiastes and the Book of Job. His "Ha-To'eh be-Darke ha-Hayyim" consisted originally of only three volumes, but in the second edition (1876) a fourth volume was added. This work is in reality a long series of independent narratives; it shows how its hero, Joseph the Orphan, passed through different stages of misery from childhood to maturity. In fact, it is his own biography, modeled after Dickens' "David Copperfield," but more comprehensive. While this work is undoubtedly the most graphic one written by Smolenskin, his "'Am 'Olam," in which he expounded his nationalistic ideas and his Messianic views, is no less important. He contends that the Jews are not only a religious sect, but that they are a nation, and that it is toward nationality they should strive. The "'Am 'Olam" is the first Hebrew book in which the Messianic idea is entirely freed from the religious element. The Messianic era, he argues, will be that in which the Jews will have achieved political and moral emancipation. He declaims against fanaticism, but at the same time he exhorts the Jews to consider themselves a nation. He also refutes the theory of Mendelssohn, who declared that Judaism is nothing more than a religious confession; and against this theory he wrote a series of articles in "Ha-Shaḥar," under the title "Et la-Ṭa'at."
Bibliography:
Bernfeld, in Ha-Maggid, xxix., No. 8;
Brainin, in Ha-Shiloah, iii. 244, 434, 521;
idem, Pereẓ b. Mosheh Smolenskin, Warsaw, 1896;
M. Kahan, in Keneset Yisrael, i. 249 et seq.;
Levysohn, in Ha-Maggid, xxix., No. 10;
H. S. Slonimski, in Ha-Ẓefirah, xii. 86;
N. Slouschz, La Renaissance de la Littérature Hébraïque, pp. 177 et seq., Paris, 1903;
A. Zederbaum, in Ha-Meliẓ, xxv. 135;
Zeitlin, Bibl. Post-Mendels. pp. 369 et seq.
S.
M.
Sel.