TEIXEIRA, TEIXEYRA, TEXEIRA, or TEIXARA:
Noble Portuguese Marano family, originally bearing the surname of Sampayo. In accordance with a decree of King Philip IV. of Spain, its coat of arms—azure, a cross potencée or—was included in the Spanish roll of arms. In the patent, dated 1643, conferring nobility on Diego Teixeira his armorial bearings are blazoned as follows: Quarterly, 1 and 4, or, an eagle displayed purple; 2 and 3, checky or and sable (sixteen fields); bordure gules, charged by eight "S's" argent. This coat of arms was exchanged by the family, with the exception of a few members, for another, probably that of the De Mattos, with whom they intermarried, the new bearings being: Gules, a fir-tree sinople, rooted argent between two lions rampant, affronte, or, armed azure.
The family was known also as Teixeira de Mattos, and members of it, distinguished for their riches, philanthropy, commercial activity, and influence, have resided until very recently in Hamburg, Holland, London, Vienna, and Venice.
Diego Teixeira Sampayo (Abraham Senior Teixeira):
Portuguese Marano; left Portugal for Antwerp in 1643; died at Hamburg Jan. 6, 1666. After a brief residence at Antwerp he settled in Hamburg, professing Catholicism until Good Friday in 1647 or 1648, when he and his wife openly acknowledged Judaism, while Diego, who was approaching seventy, together with his two sons, one of whom was born out of wedlock, was circumcised by a rabbi. The imperial government thereupon demanded the surrender of Diego's person and the confiscation of his estate, but the senate of Hamburg energetically opposed this demand (M. Grunwald, "Portugiesengräber," p. 124). Diego Teixeira, who never added "de Mattos" to his name, was known in Hamburg only as the "rich Jew." He rode in an ornate carriage upholstered with velvet, had liveried servants, and kept a princely house, which, in 1654, was for some time the residence of Queen Christina of Sweden, to whom Diego had been recommended by the Spanish ambassador D. Antonio Pimentel, and by whom he was held in high esteem. He always took a keen interest in the affairs of his coreligionists; and at his intercession in 1657 King Frederick III. of Denmark granted them privileges, which were later confirmed by Christian V. For several years he was the head of the Spanish-Portuguese community in Hamburg, and at his son's wedding he presented the congregation with a ewer and a basin of silver plated with gold, while in 1659 he contributed 15,000 marks for the erection of a synagogue. It was he who supplied the copper roofing for the great Church of St. Michael in Hamburg, and when the elders asked for his bill he requested them to accept it receipted without payment. There still exist two benevolent institutions founded by Diego Teixeira and his wife, Sara d'Andrade (d. Dec. 5, 1693): Zur Ausstattung Dürftiger Jungfrauen and Zur Auslösung von Gefangenen.
Bibliography:
Archenholtz, Mémoire de, Christine de Suède, i. 450, iii. 228, Amaterdam, 1651;
Grätz, Gesch. x. 23;
D. H. de Castro, Keur van Grafsteenen, pp. 104 et seq.; Grunwald, Portugiesengräber, pp. 123 et seq. (the epitaphs being given on p. 86).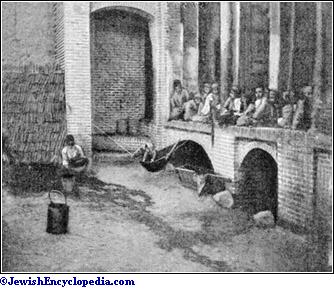 Jewish School at Teheran.
(From a photograph by E. N. Adler.)
Manuel Teixeira (Isaac Ḥayyim Senior Teixeira):
Only son of Diego Teixeira and Sara d'Andrade; born in Lisbon about 1625; died at Amsterdam June 5, 1705. He was twice married, his second wife being Esther Gomez de Mesquita, whom he wedded at Hamburg April 7, 1654. Like his father, he was the financial agent and resident minister of Queen Christina of Sweden, retaining this position until 1687, as is proved by the patent of dismissal given him by her (Archenholtz, "Mémoire de Christine de Suède," iv.). Christina esteemed her ambassador so highly for his integrity and discretion that when the magistracy of Hamburg attempted to prevent him from leaving the city the queen regarded their action as a personal affront. She considered Teixeira's opinions and advice of such value that she recommended her ambassadorRosenbach to follow his counsels, "for they are wise and clever, and I approve of them," while in one of her letters to Count Wassenau the queen said: "Teixeira has written you a letter so clever and sagacious that King Solomon himself could not have improved upon it. I can only add that you must do all things as he bids you, and undertake nothing in opposition to his views. . . . Be careful not to do anything without his sanction" (Archenholtz, l.c. iii. 399, 465).
During her repeated visits to Hamburg, Queen Christina always took up her residence in Teixeira's house, which was situated in the most beautiful portion of the town, on the Jungfernstieg; she remained there for an entire year in 1661. When she revisited Hamburg in July, 1666, and instead of accepting the hospitality of the municipal council became the guest of Teixeira, the rabble, instigated by the clergy, endeavored to storm the house. For more than a quarter of a century Teixeira served the queen faithfully, and, even when, in 1685, he refused to advance further sums on her appanage, her governor-general, Olivekraus, did not succeed in disgracing him; on the contrary, she maintained a correspondence with him until her death.
Although Manuel Teixeira, like his father, kept a princely house and moved in the highest circles, he was a faithful adherent of Judaism, and supported a Talmud Torah in which Jacob Sasportas was employed as teacher. Like many other Jews of Spanish-Portuguese extraction, he was a follower of Shabbethai Ẓebi. In 1670, when the Jews were threatened with expulsion from Vienna and from the Austrian domains, Teixeira, in response to the appeal of the Vienna community, advocated their cause with great devotion. He accordingly wrote to several of his friends among the grandees of Spain and invoked the aid of Cardinal Azzolino at Rome, the confidential friend of Queen Christina, while at his request the queen herself wrote to the papal nuncio in Vienna and sent Teixeira letters for the dowager empress and for the empress. Manuel must have removed to Amsterdam before 1699, since in that year he was head of the Spanish-Portuguese congregation in that city.
Bibliography:
Jahrbuch für Israeliten, vii. 1-13, Vienna, 1860;
Grätz, Gesch. x. 227, 263; xxii. et seq.;
J. Sasportas, Ohel Ya'akob, responsum No. 77;
Zeitschrift des Hamburger Geschichtsvereins, ii. 409 et seq.;
D. H. de Castro, Keur van Grafsteenen, pp. 104 et seq.;
Jew. Chron. Aug. 11, 1905;
Diamant, in Magyar Zsidó Szemle, vi. 269 et seq., 323 et seq.
S.
M.
K.