VAN OVEN, JOSHUA:
English surgeon and communal worker; born in England 1766; died in Liverpool 1838; son of Abraham Van Oven. He was trained for the medical profession, being a pupil of Sir William Blizard. On receiving the degree of L.R.C.S. (1784) he established himself in London as a surgeon and apothecary, acquiring an extensive practise among the Jewish residents. Through unfortunate speculations he in 1830 found himself in monetary difficulties, and then removed to Liverpool, where he continued to reside till his death.
Van Oven was one of the most prominent workers in the Jewish community of his day, and was chiefly instrumental in establishing the Jews' Free School, the presidency of which he held for many years. His active participation was evinced in the weekly sermons he delivered to the pupils. He will, however, be chiefly remembered for his zeal in establishing the Jews' Hospital in Mile End. There was at that time no institution for teaching handicrafts to Jewish lads; and its want was keenly felt and commented on. Van Oven therefore conceived the plan of erecting houses of industry and education, together with hospitals for the sick, whose maintenance was to be provided for by annual contributions from the sum paid according to the general poor-rates by Jewish householders. Opposition being shown to part of this plan, he was induced to modify it; and instead of several hospitals the Jews' Hospital in Mile End was erected from funds previously collected from the community.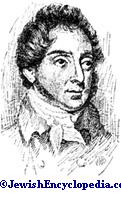 Joshua Van Oven.
Van Oven acted as honorary medical officer to the poor of the Great Synagogue, London, until his removal to Liverpool. In the latter city he took a prominent part in communal affairs, established schools and charitable organizations, and delivered in the synagogue sermons in the vernacular—at that time a novel proceeding.
Van Oven was a Hebrew scholar—perhaps one of the best of his day—and a voluminous writer, contributing articles on Jewish and medical subjects to the "European Magazine" and the "Liverpool Medical Gazette." He wrote also: "Letters on the Present State of the Jewish Poor in the Metropolis," London, 1802; a preface to "The Form of Daily Prayers," ib. 1822; and "A Manual of Judaism," ib. 1835.
Bibliography:
Picciotto, Sketches of Anglo-Jewish History, passim;
European Magazine, 1815;
Brit. Mus. Cat. s.v.
J.
G.
L.