WERTHEIMER, JOSEPH, RITTER VON: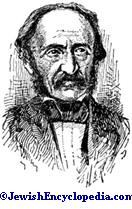 Joseph Wertheimer.
Austrian philanthropist and author; born at Vienna March 15, 1800; died there March 15, 1887. He was the descendant of an old and prominent Jewish family; and his father was an intimate friend of Joseph von Sonnenfels. At the age of fifteen young Wertheimer entered the business of Freiherr von Stifft, and five years later that of his father, whose partner he became in 1821. During his leisure hours he devoted himself especially to the study of pedagogic works. In 1824, 1826, and 1828 he traveled through Germany, Italy, France, and England; and during a protracted sojourn in London made a special study of the kindergartens organized in that city in 1824. On his return he translated into German a work by the director of the London Central Infant School, publishing it under the title "Ueber Frühe Geistige Erziehung und Englische Kleinkinderschulen"(Vienna, 1826; 2d ed. 1828). At the same time he addressed to the government of Austria a letter advocating the establishment of similar institutions in that country. With the cooperation of Johann Lindner, a Catholic priest, Wertheimer opened in 1830 the first kindergarten in the Austrian capital. The success of this institution, and of others founded in the same year, led to the organization of a central society for the establishment of infant asylums, under the patronage of the empress Carolina Augusta, and with the active cooperation of the Catholic clergy. Wertheimer was one of the founders also of the Allgemeine Rettungsanstalt of Vienna, a society for the care of released criminals and neglected children.
Wertheimer began his labors in behalf of his coreligionists by founding in 1840 the Verein zur Förderung der Handwerke Unter den Israeliten, a society whose aim it was to afford Jewish children an opportunity of learning trades, and thereby to dispel the common belief in the Jews' dislike for manual work; this object was fully realized, thousands of apprentices being trained by the society. In 1843 Wertheimer founded a Jewish infant school in the Leopoldstadt, Vienna, to which a non-sectarian kindergarten was added in 1868. During the thirty-two years (1835-67) in which he was actively connected with the management of the Jewish community of Vienna, first as trustee and subsequently as president, he rendered signal services to Austrian Judaism by raising the social and political status of his coreligionists, and by advocating religious and educational reforms. Among other institutions founded by Wertheimer may be mentioned the Verein zur Versorgung Hilfsbedürftiger Waisen der Israelitischen Cultusgemeinde (1860), which led to the establishment of a girls' orphan asylum; and the Israelitische Allianz zu Wien (1872), of which he remained president for a number of years. In recognition of his labors the emperor conferred upon him the Order of the Iron Crown with the accompanying patent of nobility, and he was made an honorary citizen of Vienna. He took active part in the conferences of the second Jewish synod of Augsburg July 11-17, 1871.
Wertheimer's interest in the emancipation of his coreligionists led him to publish his work "Die Juden in Oesterreich vom Standpunkte der Geschichte, des Rechtes und des Staatsvortheiles" (2 vols., Leipsic, 1842), which is still considered a standard work. As such a work could not be issued in Austria at that time, and as Austrian subjects were forbidden to print interdicted works elsewhere, the writer's name had to be concealed from the authorities. Of other works by Wertheimer the following may be mentioned: "Therese. Ein Handbuch für Mütter und Kinderwärterinnen" (1835); "Dramatische Beiträge" (1838), consisting partly of translations from the English; "Die Stellung der Juden in Oesterreich" (Vienna, 1853); "Die Regelung der Staatsbürgerlichen Stellung der Juden in Oesterreich" (ib. 1859); "Jahrbuch für Israeliten" (11 vols., ib. 1854-64); "Die Emancipation Unserer Glaubensgenossen" (ib. 1882); and "Jüdische Lehre und Jüdisches Leben" (ib. 1883). From 1848 until his death he edited the "Wiener Geschäftsbericht"; and he contributed many political, economic, and historical essays to various periodicals.
Bibliography:
Die Neuzeit, March, 1887;
Wurzbach, Biog. Lex. der Oesterreichischen Monarchie;
Jew. Chron. March 25, 1887.
S.
S.
Sa.