WOLF, SIMON:
American jurist, publicist, and philanthropist; born at Hinzweiler, Bavaria, Oct. 28, 1836; emigrated to the United States in 1848 and settled as a merchant at Ulrichsville, Ohio. He studied law at the Ohio Law College, Cleveland, and was admitted to the bar at Mount Vernon, Ohio, in 1861. He practised law at New Philadelphia, in the same state, for a year, and then moved to Washington, where he opened an office. From 1869 to 1878 he was recorder of the District of Columbia. President Hayes appointed him one of the civil judges at Washington, but he resigned in 1881 to accept the appointment of consul-general of the United States to Egypt, from which office he retired the following year. He was appointed and reappointed member of the Board of Charities for the District of Columbia, and at present practises law in Washington.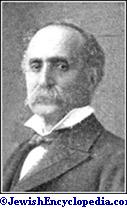 Simon Wolf.
Wolf has been for many years chairman of the Board of Delegates of Civil and Religious Rights, and in that capacity has had many occasions for submitting to the federal government grave questions of Jewish interest. He has been very active in the Independent Order B'nai B'rith, of which he was president from 1903 to 1905. He was the founder and president of the Hebrew Orphans' Home at Atlanta, Ga., and is president of the Board of Children's Guardians, Washington.
He is a prominent freemason, an able lecturer, and a recognized orator who has devoted much time to philanthropic work among all classes.
Wolf is the author of "The American Jew as Patriot, Soldier, and Citizen" (Philadelphia, 1895) and of biographies of M. M. Noah and Com. U. P. Levy.
Bibliography:
American Jewish Year Book, 1905, p. 208.
J.
F.
T.
H.