YOUNG MEN'S HEBREW ASSOCIATION:
Communal institution organized in various cities of the United States for the mental, moral, social, and physical improvement of Jewish young men. The first established was that in New York, which was organized on March 22, 1874, at the house of Dr. Simeon N. Leo. The board of directors was elected on May 3, 1874, and included Isaac S. Isaacs, Adolph L. Sanger, Oscar S. Straus, Lewis May, and others. The first president was Lewis May (1874-76). On March 27, 1876, the association removed from its temporary quarters to the Harvard Rooms, Forty-second street and Sixth avenue.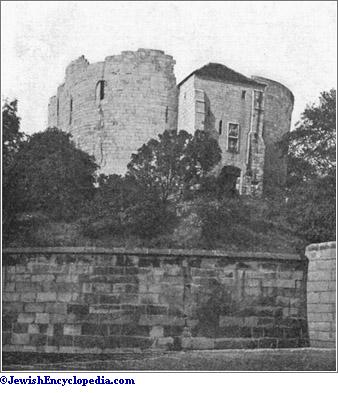 Clifford's Tower, York, England.
(From a photograph.)
The functions of the New York branch are philanthropic and benevolent. The social work includes public lectures by prominent citizens, literary and debating meetings, free classes in Bible, Hebrew, stenography, book-keeping, mechanical drawing, and other subjects, as well as in physical culture. A library was founded, and in 1886 became the basis of the Aguilar Free Library, which was recently merged into the New York Public Library. For about ten years (1875-85) the association had rather varying fortunes; and in the following decade its affairs became so unsatisfactory that the question of disbanding was considered. A downtown branch was opened on the East Side, out of which in 1891 grew the Educational Alliance. In 1895, however, a reorganization took place; and on Jan. 10, 1897, Jacob H. Schiff presented the association with a new home at 861 Lexington avenue, which gift was followed on Dec. 20, 1898, by the donation of a new building at Ninety-second street and Lexington avenue. This structure, which was dedicated on May 30, 1900, is provided with all modern requisites, including a library, reading-rooms (containing more than 9,000volumes for reference), a gymnasium, and rooms for recreation. In addition to evening classes in a large number of subjects, the association holds religious services on Friday evenings, and has established a vacation camp. For the year ending April 30, 1905, the total attendance was no less than 166,-289; the income was $39,423.21; and the disbursements amounted to $38,673.32. Percival S. Menken has been president of the association since 1895.
The Young Men's Hebrew Association of New York city is the parent institution of similar organizations that have been established throughout the United States. In 1875 there was founded in the city of Philadelphia, Pa., a Young Men's Hebrew Association, which has continued in existence to the present time. It is located in a rented building; and its activities consist principally in the delivery of public lectures during the winter season, an annual ball, and the encouragement of literature and of debating societies, besides numerous classes, a gymnasium, and entertainments. It also awards prizes for essays; and several periodicals have been issued under its auspices. Joint public debates have been held at various times between the Philadelphia association and that of New York. The former has a small library for the use of members.
The Young Men's Hebrew Association of New Orleans, La., has been established for a number of years. It is largely devoted to social purposes, and therefore performs for the most part the functions of a club. The handsome building occupied by the association for a number of years was recently destroyed by fire; it contained a ballroom, a billiard-room, parlors, meeting-rooms, and a library. This is one of the principal Jewish organizations of the city.
In St. Louis, Mo., there is a Young Men's Hebrew Association of considerable size and importance. It attempts to combine the features of both the New Orleans and the New York organization; social purposes, however, predominate, and in its functions and activities it is a club rather than a philanthropic association like the New York branch.
San Francisco, Cal., has a Young Men's Hebrew Association with a considerable membership. It is conducted practically on the lines of the organization in New Orleans, being confined largely if not exclusively to club features.
In Louisville, Ky., there is a Young Men's Hebrew Association; but it is not in a flourishing condition, and it seems to be very difficult to arouse interest in its welfare.
In Washington, D. C., there was for a number of years a Young Men's Hebrew Association; but for causes similar to those which affect the organization in Louisville, Ky., it was some time ago abandoned, and has not since been revived.
Chicago, Ill., has never had a Young Men's Hebrew Association of any significance.
Smaller Institutions.
In addition to those mentioned above, there are numerous other Young Men's Hebrew Associations of more or less importance throughout the United States. In Springfield, Mass., there is an association which was established a few years ago and which is principally a social and literary organization. Memphis, Tenn., has for a number of years supported a Young Men's Hebrew Association, which follows closely in its methods the branch in New Orleans. It is one of the principal Jewish organizations in Memphis, and performs to a large extent the functions of a social club, dramatic performances being among the entertainments provided by its members.
The Young Men's Hebrew Association of Boston, Mass., is now located in a home of its own, the gift of a public-spirited Jewish citizen, and has recently been reorganized, being devoted chiefly to philanthropic and benevolent work. It maintains public classes, debating and literary societies, religious work, a library, reading-rooms, and other features, in all of which it follows closely the lead of the New York organization.
In the following cities Young Men's Hebrew Associations have been established on a small scale, confining themselves principally to social activities and serving as small social clubs: Nashville, Tenn.; Mobile, Ala.; Savannah, Ga.; Stamford, Conn.; Chelsea, Mass.; Wilkesbarre, Pa.; Salem, Mass.; Milwaukee, Wis.; Baltimore, Md.; Newport News, Va.; Fort Worth, Tex.; and Newark, N. J.
J.
P.
S.
M.