AR, or AR MOAB:
Occurs as follows in the Old Testament: Num. xxi. 15, 28; Deut. ii. 9, 18, 29; Isa. xv. 1. It is generally identified with the Hebrew "'ir" (city), so that "Ar Moab" would be "city of Moab," a supposed ancient capital of the Moabites. But even if this interpretation be admissible in certain of the passages cited above, it would not be very appropriate in Deut. ii. 9, which reads: "Distress not the Moabites, for I will not give thee of their land for a possession, because I have given Ar to the children of Lot for a possession"; or again, verse 18, "Thou art to pass over through Ar, the coast (or the border) of Moab"; or, finally, verse 29: "The children of Esau which dwell in Seir, and the Moabites which dwell in Ar." It is obvious that "Ar" here must stand either for the land of Moab, or for the principal part of it: if, therefore, "Ar" were a city, it must here be used as representing the country. It would be simpler, however, to regard "Ar" as the actual name of a country, and this is appropriate also in Isa. xv. 1, 2; Num. xxi. 15, 28. Note also that the Septuagint translates Isa. xv. 1, "ἡ Μωαβῖτις." It is perhaps from this country that the capital of Moab (Rabbat Moab) derives the name of Areopolis ("Onomastica Sacra," edited by Lagarde, p. 277).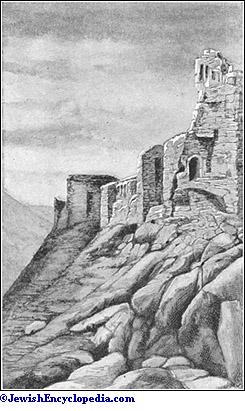 Ruins of Ar Moab.
(After Luynes, "Voyage d'Exploration à la Mer Morte.")
Bibliography:
Buhl, Geographie des Alten Palästina, pp. 269, 270.
J.
Jr.
F.
Bu.