ARKANSAS:
One of the South-central states of the United States; admitted June 15, 1836; seceded May 6, 1861; and was readmitted June 22, 1868.
Arkansas has about three thousand Jews. Though their settlement in different parts of the state can be traced to comparatively early days, their communal activity is of but recent development. A curious item of circumstantial evidence in this matter is the old marriage law of Arkansas (Statutes of 1838), which was so worded as to exclude Jewish ministers from performing the ceremony. This law remained unchanged until 1873, when, through the exertions of M. A. Cohn of Little Rock, the blunder was corrected in the revised statutes. There are in the state but five congregations of sufficient size and means to employ a permanent minister and to hold regular services; namely, Little Rock, Pine Bluff, Fort Smith, Hot Springs, and Jonesboro. The communities next in size are Texarkana, Helena, and Camden.
Little Rock.
The most important Jewish community in the state is Little Rock; it is the oldest as well as the largest. The first Jewish settlers there that can be traced were the Mitchell family (three brothers), who came from Cracow, Galicia, in 1838. From that year until the Civil War there was little Jewish immigration; but during the war and immediately afterward the influx was comparatively large. In 1866 a congregation was formed and incorporated with M. Navra as president. On March 18, 1867, a charter was granted to it under the name "Congregation B'nai Israel of Little Rock." The members worshiped in the Masonic Temple under the leadership of a Ḧazan, S. Peck of Cincinnati, who resigned in 1870. In 1872 J. Bloch was elected rabbi; and the congregation moved into a hall, preparatory to building a temple. This temple was completed and dedicated in September, 1873. Bloch served until 1880, and was succeeded by I. W. Benson, who held office from 1881 to 1883; he was followed by M. Eisenberg, who occupied the pulpit for the remainder of the year. He was followed by Joseph Stolz as rabbi, who was at the time a student in the Hebrew Union College of Cincinnati. The rabbis succeeding him were: Emanuel Schreiber (1889-1891), Charles Rubenstein (1891-1897), Harry H. Mayer (1897-1899), and Louis Wolsey, the present incumbent. The membership (Sept., 1899) is 170; and the Sabbath-school has 100 pupils and 5 teachers. The building now occupied was built during the ministry of Rev. C. Rubenstein, and was dedicated in May, 1897, by him and Rabbis Wise, Samfield, and Stolz. Recently there has also been established an Orthodox congregation, having a membership of 13. Their present leader is a Ḧazan, S. Carmel. With the growth of the community and congregation the following societies were organized: The Concordia Club (social, 1868); The Hebrew Ladies' Benevolent Society (for the relief of the poor, 1869); Little Rock Lodge, No. 158, I. O. B. B. (1871); Kesher Shel Barzel (1876); Hebrew Relief Society (1892); The Temple Aid Society (formed by Rabbi Rubenstein in 1892, to aid in building the temple).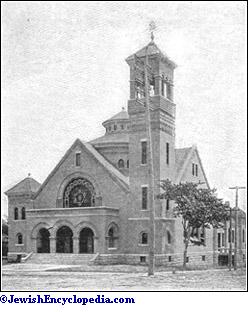 Synagogue at Little Rock, Arkansas.
(From a photograph.)
Many Little Rock Jews have been prominent in public life. One of the earliest settlers, Jonas Levy, was mayor from 1860 to 1865, and Jacob Erb (now in Chicago) occupied a position as county judge from 1890 to 1894, while Jacob Trieber is at present the judge of the United States Circuit Court.
The estimated population is 40,000, of whom the Jews number 900. The latter include many merchants, a banker, lawyer, school-teacher, sash and blind manufacturer, photographer, and pawnbroker. Jews are also engaged in the following trades: baker, barber, confectioner, laundryman, musician, restaurateur, and tailor. It is perhaps worthy of note thatmany of the Jews of Little Rock and other Arkansas cities were members of the Confederate Army.
Pine Bluff.
Pine Bluff has a Jewish community almost as large as that of Little Rock. The proportion of Jews to the total population being greater, they are more influential in public affairs. Between 1845 and 1850, a Jew named Wolf—now in the New Orleans home—came to Pine Bluff. From that date the influx of Jews continued until today (1902) there is a Jewish population of some 700 or 800. In 1867 the congregation Anshe Emeth was organized with 20 members. Bloch, a teacher in the public schools, was rabbi, and M. Aschaffenberg, president. In 1871 Bloch resigned and was succeeded by Flügel, who retained office for four years. His successor was M. Greeneblatt, at whose death (1885) Rev. Isaac Rubenstein was appointed. He held office but one year, and was succeeded in 1887 by the Rev. Ferdinand Becker. During his long term the congregation increased to its present membership, 76; and he conducted a most successful Sabbath-school. On his retirement in 1898 he was succeeded by the present incumbent, Rabbi Joseph Kornfeld.
The population of Pine Bluff is estimated at 12,000, of whom 800 are Jews. The majority of the Jewish inhabitants are merchants; and there are several lawyers, a physician, and a school-teacher. The trades followed by Jews are: carpenter, laundry, printer, and tailor.
Fort Smith.
Fort Smith, the community next in size, is considerably smaller than Little Rock or Pine Bluff. Although there were Jews here as early as 1845, it was not till much later that there were enough to form a congregation. The earliest settler that can be traced was Edward Czarnickow, who came to Fort Smith from Posen in 1842. He was followed by Morris Price (1843), Michael Charles (1844), and his brother, Louis Czarnickow, and Leopold Loewenthal (1845). From 1845 to 1865 several business houses were established, and the greater part of the business done was carried on with the Indians that flocked to Fort Smith.
The first organization was the Cemetery Association. It was established in 1871, and the next year it purchased a plot for a cemetery. Louis Tilles was president. The Hebrew Ladies' Benevolent Society was also organized in that year. From its inception it has been a great power for good; relieving the poor, and contributing generously to the building of the temple. In 1890, through the efforts of Rabbi Messing of St. Louis, a congregation, consisting of about 25 members, was formed. A. Traugott was appointed minister. With the aid of the Ladies' Benevolent Society a lot was bought and a temple erected. In 1895 Traugott retired and was succeeded in 1896 by Max Moses. During the ministry of the latter the debt on the temple was almost entirely liquidated. In 1898 Moses was succeeded by Max C. Currick, who served till the end of 1901. The membership has greatly increased, there being now (1902) 44 full members and 25 associate members; of these about 10 live in neighboring towns. The Sabbath-school, which has 40 pupils and 3 teachers, is in a most prosperous condition. Besides the organizations mentioned, there are the Progress Club (social), with 40 members (1899); and a local lodge of the I. O. B. B. (1879), at one time very prosperous, the membership of which has fallen from 30 to 7.
The total population of Fort Smith is estimated at 20,000, of whom 230 are Jews. The only trades pursued are: tailor, cutter, photographer, and upholsterer.
Van Buren, a suburb of Fort Smith, contains a few Jewish families, most of whom are members of the Fort Smith congregation.
Hot Springs.
Hot Springs has a Jewish population of 170 in 10,000. There have been Jews in Hot Springs since 1856, when Jacob Kempner came there from Cracow, Galicia. The congregation was organized in 1878. F. L. Rosenthal was the first rabbi, and was succeeded by the present incumbent, Louis Schreiber. On account of the large numbers of sick poor that flock to Hot Springs, the demand upon the community is very heavy; and to meet it the Society for the Relief of the Sick Poor was organized in 1899.
Jonesboro, Texarkana, Helena, Camden.
The first Jewish settler in Jonesboro was Morris Berger, who arrived in 1882. In 1897 there were enough Jews to form a congregation. In September of that year Rabbi Isaac Rubenstein was called to the ministry. Through his untiring efforts the temple was completed, and was dedicated on Jan. 2, 1898. He died in Jan., 1899. In August of the same year Adolph Marx began his ministry, and served until 1900, when he was succeeded by J. Ellinger. The total population of Jonesboro is 5,000, of whom 125 are Jews. Both in Hot Springs and Jonesboro the only trades pursued by Jews are those of tailor and shoemaker.
Texarkana, Helena, and Camden have Jewish communities of about the same size, numbering each between 100 and 140. None of them has either a permanent rabbi or regular services; but they all have services during the autumn holidays, generally conducted by a student of the Hebrew Union College. The oldest of these communities is Helena, its congregation having been organized as far back as 1869. It had permanent rabbis until 1887. They were: A. Meyer (1880-1881), L. Weiss (1882-1884), A. M. Block (1885), and A. Gustmann (1886-1887). Abraham Brill served as rabbi from 1900 till 1901. Each of these communities has a social club, a society for the relief of the poor, a literary society, and a local lodge of the I. O. B. B.
Scattered through the remainder of the state, in the towns of Brinkley, Batesville, Conway, Ozark, Paragould, Malvern, Newport, Paris, Fayetteville, Searcy, and Dardanelle, there are some four or five hundred Jews. They are in no greater groups than five families to a town; with the exception of Newport and Conway, which have each about 55 Jews.
A.
M.
C.
C.