ARTOM, ISAAC:
Italian patriot, diplomat, financier, and author; born at Asti, Piedmont, Dec. 31, 1829; died at Rome Jan. 24, 1900, and was buried at Asti. At the age of sixteen he was ready for the university; but the higher schools of Piedmont excluded Jews, so he, in 1846, removed to Pisa, where he entered the university to study law. At the outbreak of the revolution against Austria in 1848, Artom, despite his frail constitution, joined the students' battalion commanded by Professor Montanelli, and took part in the battles of Curtatone and Montanara. At the close of the war he resumed the study of law, and in 1853 received a doctor's degree from the University of Turin.
Private Secretary to Cavour.
In 1855 Artom entered the Foreign Office of Tuscany in the capacity of volunteer, or supernumerary,and three years afterward was made private secretary to Count Cavour. Clerical attacks on Cavour included among the charges against him the fact that his chief secretary was a Jew. In reply, Cavour expressed the highest opinion of Artom's ability (Chiola, "Lettere di Camillo Cavour," iii. 306).
On the death of Cavour (June 6, 1861), Artom wished to retire from active political life, but was dissuaded by Count Arese, who, having meanwhile been appointed ambassador to France, induced Artom to accompany him to Paris and to accept the post of secretary of legation (1862). When Pasolini was installed minister of foreign affairs, Artom was appointed chief secretary. Soon after, however, he resumed his diplomatic career, first as counselor of legation at Paris, and later as minister plenipotentiary to Denmark. In 1866, during the peace negotiations with Austria, Artom and General Menabrea were chosen to represent Italy; and on the outbreak of the Franco-Prussian war, in 1870, the former was sent on a diplomatic mission to Vienna. From 1870 to 1876 Artom was again connected with the ministry of foreign affairs, in the capacity of under-secretary of state. He was elected senator of the kingdom, March 23, 1877, being the first Jew to sit in the Italian legislative body.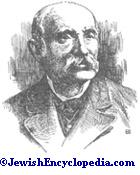 Isaac Artom.
Artom's Literary Works.
Artom is favorably known as a writer both of prose and of poetry. Of his verses many were inspired by special occasions, his most effective literary effort of this kind being an ode upon the death of Victor Emmanuel (Turin, 1878). Among his prose essays are (1) "Relazione Sugli Studii Superiori nell' Università di Heidelberga" (Bologna, 1868); (2) "Vittorio Emanuele e la Politica Estera"; and (3) a brief record of the Italian ministry of foreign affairs, (published in the "IX Gennaio"). Other publications by Artom include a volume commemorating the death of Victor Emmanuel II., Bologna, 1882; and an Italian translation of Gneist's "Rechtsstaat; Lo Stato Secondo il Diritto; Ossia la Giustizia nell' Amministrazione Politica," Bologna, 1884. But the most ambitious and by far the most important work of Artom is the biography of his former chief and friend, Cavour. This work, written in collaboration with A. Blanc, and entitled "L'Œuvre Parlementaire du Comte de Cavour," was published in Paris in 1862, and was soon afterward translated into Italian. As senator, Artom prepared two reports—one on the Italian treaty with Zanzibar ("Trattato di Commercio col Sultano di Zanzibar," Rome, 1886); the other on certain commercial and maritime negotiations with France, Spain, and Switzerland ("Facoltà al Governo di Mettere in Vigore il 30 Giugno, 1888, le Convenzioni di Commercio e di Navigazione che Fossero per Concludersi con la Francia, la Spagna, e la Svizzera," Rome, 1888).
Bibliography:
Vapereau, Dict. des Contemporains, s.v.;
Gubernatis, Dict. International des Ecrivains du Jour, s.v.
S.
F.
S.