ASTRUC, ELIE-ARISTIDE:
French rabbi and author; born at Bordeaux, Nov. 12, 1831. He received his early education in his native city and took a course of study at the rabbinical college of Metz, to which he was sent with a scholarship by the community of Bayonne in 1852. On the completion of his studies in 1857, he was appointed assistant to the chief rabbi of Paris, and became chaplain of the Paris lyceums of Louis le Grand, Vanves, and Chaptal. He was one of the six founders of the Alliance Israélite Universelle (1860), and in 1865 was delegate from Bayonne to the convention for the nomination of chief rabbi of France. In 1866 he was elected chief rabbi of Belgium, and wasauthorized by a special decree of the emperor to accept the office though remaining a French citizen. While holding this position, he took part in the synod of Leipsic (June 29—July 4, 1869).
During the Franco-Prussian war (1870-71), Astruc distinguished himself both as a French patriot and as a Jewish minister. He was a member of the comité du pain, whose chairman, the Comte de Mérode, leader of the Belgian Catholic party, cared for the wounded. In his capacity of secretary to the "Belgian committee for the liberation of the territory (Alsace and Lorraine)," Astruc revisited Metz after an absence of twenty years.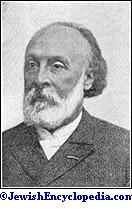 Elie-Aristide Astruc.
In 1879 Astruc resigned the chief rabbinate of Belgium to return to his native country. Before his departure the King of the Belgians created him a knight of the Order of Leopold. After officiating as chief rabbi of Bayonne from 1887 to 1891, he retired to private life.
Astruc is a successful writer. The first of his works was a French metrical translation of the principal liturgical poems of the Sephardic ritual, entitled "'Olelot Eliahu" (Elia's Gleanings), published in 1865. In 1869 he published "Histoire Abrégée des Juifs et de Leurs Croyances," a small book which caused a sensation at the time, on account of the author's boldness. As Astruc said, he wished "to separate the kernel from its shell"; that is, to disengage the great ideas of Judaism from venerable but partially legendary traditions. A second edition of the work was issued in 1880.
In the pulpit Astruc displayed the same independent yet moderate views, and always boldly proclaimed his moral convictions and his attachment to the Jewish faith. His more important sermons were collected and published under the title "Entretiens sur le Judaisme," 1879. In 1884 he wrote "Origines et Causes Historiques de l'Anti-Sémitisme," which was translated into German and Hungarian. He contributed to various reviews—among others, the "Revue de Belgique," "Revue de Pédagogie," and the "Nouvelle Revue"—a number of articles in which he endeavored to impress non-Jews with correct views of the history and doctrines of Israel; also essays on the political societies of Belgium, on Pope Leo XIII., etc.
S.
J.
W.