BAKEWELL HALL:
A large building in the neighborhood of the Guildhall, London, on the site now occupied by Gresham College. In a document at the British Museum (Add. MS. 4542, f. 37), a synagogue of the Jews is described as being on the same site; and Stow ("Survey of London," ed. Thoms, p. 108) refers to the tradition that Bakewell Hall was once a Jewish synagogue. It was built on land that originally belonged to Josce of York. At his death it escheated to the king and passed to Samuel Hoppocole, and then to Ysaac the "Cyrographer," who handed it over to his son Samson. It ultimately came into possession of Aaron fil. Vives in 1281, and was in the hands of his mother at the expulsion in 1290. It was the only synagogue in London in preexpulsion times that was not confiscated and remained in possession of the Jews down to the expulsion in 1290. It has been suggested that the name was derived from "Bathwell Hall," and that the "miḳweh," or ritual bath, of the London Jewry was also situated in the same building.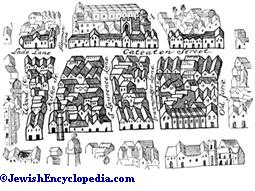 Old London Jewry, Showing (A) Location of Bakewell Hall.
(From Ralph Aggas' "Map of London," 1586.)
Bibliography:
Jacobs, in Papers of Anglo-Jewish Exhibition, p. 11;
idem, Jews of Angevin England, pp. 234-236;
idem, Jewish Ideals, p. 170;
Abrahams, Jewish Life in the Middle Ages, p. 73.
G.
J.