BARNETT, JOHN (family name Beer):
English composer; born at Bedford, England, July 1, 1802; died at Cheltenham April 17, 1890. He made his début as a singer at the Lyceum in 1813, when only eleven years of age; but two years later the breaking of his voice led him to devote himself to musical composition, for which he studied under Ferdinand Ries and under Perez, organist of the Spanish embassy to London.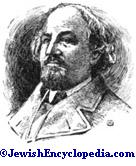 John Barnett.
Barnett, while still a child, wrote masses and lighter pieces, several of which were published. His first great success, however, was an operetta entitled "Before Breakfast," produced at the Lyceum in 1825. This was followed in 1831 by "The Pet of the Petticoats," regarded as his most important dramatic production up to that time. In 1832 he was made music-director of the Olympic Theater, and two years later his first opera, "The Mountain Sylph," was produced at the Lyceum. This work, which met with immediate success, was followed by the operas "Fair Rosamond," produced at Drury Lane in 1837, and "Farinelli," brought out in 1838.
The following year Barnett spent in study at Frankfurt, and on his return to London in l839 was associated with Morris Barnett, the dramatist, in opening St. James's Theater. Unfortunately the theater was closed at the end of the first week. In 1841 he settled at Cheltenham, where he was engaged as a singing teacher until his death. In addition to the works mentioned, Barnett's productions include three operas which have never been performed, two unfinished oratorios, many part-songs and duets, two string quartets, and about 4,000 detached songs.
Bibliography:
Grove, Dict. of Music and Musicians;
Kohut, Berühmte Israelitische Männer und Frauen, pp. 1, 2;
Baker, Biographical Dict. of Musicians.
J.
M.
W.
L.