BEER, PETER (PEREZ):
Austrian educationalist; born Feb. 19, 1758, at Neubydžow, Bohemia; died Nov. 8, 1838, at Prague. After having received his early training in Bible and Talmud, and—what was unusual in those days—in German and Latin, he entered, at the age of fourteen, the yeshibah at Prague, and four years later that of Presburg. When twenty-one he began his career as a teacher in a Hungarian village; but the desire for study soon brought him to Vienna, where for a time he attended the university.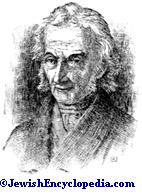 Peter Beer.
As a teacher in his native town, and from 1811 at the Jewish school at Prague, Beer displayed great activity in reforming the methods of instruction. By a well-arranged system of teaching Hebrew, Bible, and religion, he, like his contemporary Herz Homberg, fostered the spirit of progress which during the reign of Emperor Joseph II., and through the impulse given by Moses Mendelssohn, had been kindled among the Jews of Austria. As an advocate of radical reform in religious matters Beer was considerably in advance of his time.
Beer was the author of several pedagogical works which were used in Jewish schools for many years. The principal ones were: (1) "Toledot Yisrael" (The Generations of Israel), a Biblical history in Hebrew and German, Prague, 1796; Vienna, 1810, 1815; and revised editions, Vienna, 1843, 1854; Prague, 1875; the Hebrew text with translation into Russian by B. Segall, Warsaw, 1870; 4th ed., Odessa, 1881; 5th ed., with additions by S. J. Abramowitsch, Odessa, 1883; by Abraham Solonowitsch, 3d ed., Warsaw, 1881; with translation into Polish by Simon Dankowicz, Warsaw, 1862. (2) The "Toledot Yisrael" (vol. ii.), post-Biblical history, appeared at Vienna in 1808, reprinted in "Musar Hasekel" ("Ḳiryat Sefer," ii.) by Baruch Schönfeld, Prague, 1831. (3) "Dat Yisrael" (Statute of Israel), religious text-book, Prague, 1809-10. (4) "Emet we-Emunah" (Truth and Faithfulness), elementary religious manual, Prague, 1810. (5) "Handbuch der Mosaischen Religion für Studierende," Prague, 1818.
Besides these school-books he wrote: (6) "Gebetbuch für Gebildete Frauenzimmer Mosaischer Religion," Prague, 1815; 3d ed., Vienna, 1845; (7) "Gebete der Israeliten auf das Ganze Jahr. In Gemeinschaft mit Joseph Jakob Ballin Bearbeitet," Aurich, 1818; (8) "Geschichte, Lehren, und Meinungen Aller Bestandenen und noch Bestehenden Religiösen Sekten der Juden und der Geheimlehre oder Kabbala," two parts, Brünn, 1822-23; (9) "Handwörterbuch der Deutschen Sprache," two vols., Vienna, 1827; (10) "Reminiscenzen, Bezüglich auf Reorganisation des Oeffentlichen Gottesdienstes bei den Israeliten," Prague, 1837; (11) "Ein Wort an Rabbinats- und Predigtamts-Candidaten," in "Zeitung des Judenthums," 1839, pp. 496 et seq.; (12) "Leben und Wirken des Rabbi Moses ben Maimon, Gewöhnlich Rambam, auch Maimonides Genannt, Prodrom, und Einladung zur Subscription auf eine Deutsche Uebersetzung des More Nebochim. Nebst einem Probebogen," Prague, 1834. This translation was not published, probably in consequence of Joseph Derenbourg's criticism in Geiger's "Jüd. Zeit." (1835), i. 97-123, 210-224, 414-427. Another criticism by I. Bukofzer, "Maimonides im Kampf mit Seinem Neuesten Biographen Peter Beer," appeared at Berlin in 1844.
An autobiography of Beer was published at Prague in 1839, extracts of which are given in "Allg. Zeit. des Jud." 1839, p. 101. Some of his Hebrew poems appeared in the "Meassef" and "Bikkure ha-'Ittim," and several essays in the "Sulamith" and "Jedidja."
Bibliography:
Jost, Gesch. der Israeliten, ix. 102, 143, 151;
Fürst, Bibliotheca Judaica, i. 97;
Steinschneider, Cat. Bodl. col. 784;
Zeitlin, Bibl. Hebr. Post-Mendels. pp. 16, 348.
S.
S.
Man.