BELAIS (), ABRAHAM BEN SHALOM:
Rabbi and poet; born in Tunis 18th of Ab, 1773; died in London 1853. An eccentric personality, he had a curious career. First rabbi in Tunis and treasurer to the Bey, being pressed by his creditors, he left his home and went to Jerusalem. In 1817 he, who had hospitably received at his home in Tunis many messengers from Palestine, made a trip through Europe to collect alms for himself. Wherever he went he received valuable gifts. King Victor Emmanuel I., at an audience in Turin, presented him with 1,000 francs. According to the "Gazette of the Netherlands," Oct. 1, 1827, he was a candidate for the rabbinate of the Portuguese synagogue of Amsterdam; and had papers of recommendation from several Italian ministers, bishops, and archbishops. In France, Belais was encouraged by the ministers of Charles X., and especially by the Vicomte de Larochefoucauld, director-general of fine arts: he even received a Hebrew letter from the duke of Sussex. He was rabbi of the congregation of Nice for some years; but from 1840 to 1853 was attached to the yeshibah connected with the Spanish and Portuguese congregation at Bevis Marks, London.
The works of Belais are nearly all in Hebrew, and treat of morals and exegesis. The principal ones are: (1) a collection of notes on the Bible and Talmud,entitled, "Sefer Tebuot Yeḳeb," after Jacob Carinona Bechor, at whose expense it was printed, Leghorn, 1820; (2) "Sefer Be'er Laḥai Ro'i" in Hebrew, Italian, and French, Turin, 1826; (3) "Yad Abishalom," a commentary on the "Oraḥ Ḥayyim," Leghorn, 1829; (4) "Petaḥ ha-Bayit," a commentary upon "Ṭur Oraḥ Ḥayyim," together with answers in reference to congregational questions in London, and "Peri Eẓ Ḥayyim," seven funeral orations delivered in Mogador, Tunis, London, and Leghorn, 1846; (5) "'Afarot Tebel" (The Dust of the World), a commentary on the Book of Ecclesiastes, in Hebrew and English, London, 1850. Besides these books Belais composed occasional poems: an epithalamium on the marriage of Baron de Rothschild, in Hebrew and English (Paris, 1824); an ode in honor of Louis XVIII., in Hebrew and French (Paris, 1824); an ode in honor of George IV., in Hebrew and French (Paris, 1824); a funeral ode on the deaths of the three monarchs Victor Emmanuel of Sardinia, Louis XVIII. of France, and Ferdinand of Naples, Nice, 1825; an ode and Hebrew prayer translated into French by L. Wogue, 1835; Hebrew ode translated into French, followed by the Eighteenth Psalm, in honor of Louis Philippe, king of France, the duke of Nemours, the duke of Joinville, and the French army, on the capture of Constantine in Algeria (Paris, 1837).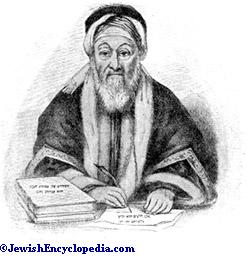 Abraham ben Shalom Belais.
(From Belais, "'Afarot Tebel.")
Bibliography:
Cazès, Notes Bibliographiques sur la Littérature Juive-Tunisienne, pp. 20 et seq.;
Zedner, Cat. Hebr. Books Brit. Mus.;
Steinschneider, in Hebr. Bibl. xx. 61;
Jewish Chronicle, Sept. 2, 1853.
J.
M.
K.
J.
W.