BENJAMIN, JUDAH PHILIP:
American statesman and lawyer; born at St. Croix, West Indies, in 1811; died in Paris, May 6, 1884. His parents were English, Jews who, some years before his birth, had removed from London to St. Croix, then a British island, in the hope of improving their fortune in the New World. A few years after his birth, his family removed from St. Croix to reside in Wilmington, N. C., and young Benjamin soon afterward was sent to school at Fayetteville. Subsequently he spent three years at Yale College. His parents several times changed their residence, until they finally settled in New Orleans, La. There Benjamin served as a notary's clerk for some time, taught school, studied law, and on Dec. 16, 1832, was admitted to the Louisiana bar.
Practises Law in New Orleans.
Louisiana had been acquired by the United States from France but a short time previously, and its language and legal system were still largely thoseof France. The broadening influences of the necessary mastery of different systems of law and literature left their mark upon Benjamin, and can be traced in the breadth of grasp, philosophical reasoning, and wide reading to which he subsequently attained. Nor should notice be omitted of certain other formative influences, which the London "Times" (May 9, 1884) commented upon in a sympathetically worded obituary: his inheritance of "that elastic resistance to evil fortune which preserved Mr. Benjamin's ancestors through a succession of exiles and plunderings, and reappeared in the Minister of the Confederate cause, together with the same refined apprehension of logical problems which informed the subtleties of the Talmud."
Benjamin's success at the Louisiana bar was remarkably rapid. At first he had found time to prepare, for his own use, a "Digest of the Reported Decisions of the Supreme Court of the Late Territory of Orleans and of the Supreme Court of Louisiana," which was the earliest digest of Louisiana law. Together with his friend Thomas Slidell, he edited and prepared this for publication in 1834. Soon, however, his law practise became more engrossing; and, as one of the recognized leaders of the Louisiana bar, he rapidly acquired a competence which enabled him to withdraw from the legal arena, purchase a sugar-plantation near New Orleans, and devote himself to sugar-planting and scientific expositions of the best methods of extracting saccharine matter from the cane.
Sugar-Planter and Politician.
Politics also actively interested Benjamin, and from time to time he was elected to various local offices. Thus, he was one of the most active and influential members of the Louisiana Constitutional Convention of 1844-45, and of that of 1852. In 1849 he was a successful presidential elector at large for the state of Louisiana, and as such cast his ballot for General Taylor as president of the United States. Originally a Whig, Benjamin became, during the change of party ties, a distinguished Democratic leader. Meanwhile, however, the destruction of his property by inundations had driven him back to the active practise of law, where success once more awaited him.
United States Senator.
That the number of Benjamin's famous legal cases was very large is evidenced by an examination of the law reports of the period. Particularly notable was his conduct of the cases which grew out of the attempt to recover insurance for a cargo of slaves lost by reason of an insurrection on board the "Creole," and his connection with enormously valuable California land-title cases, in one of which his fee is said to have been $25,000, a very large sum for that day. During the October (1848) term of the Supreme Court of the United States he was admitted to practise before that body, and soon became one of the leaders of the federal bar. Benjamin's legal talents were so generally recognized that President Pierce tendered him the position of associate justice of the United States Supreme Court; but he preferred his activities at the bar and in politics. Previously, when President Taylor's cabinet was being formed, Benjamin's name had been under consideration for a cabinet portfolio. In 1852 he was elected to the United States Senate from Louisiana, and was reelected at the expiration of his term, six years later. In 1856 Benjamin was one of a small group of senators that succeeded in securing the nomination of Buchanan for president, as against Douglas, and he enjoyed great influence with the Buchanan administration until immediately before the outbreak of the Civil war.
In the Senate he was soon recognized as one of the ablest debaters; and Charles Sumner considered him the most brilliant orator in the United States. His readiness in debate was remarkable; and he generally spoke on the spur of the moment without preparation. An examination of the "Congressional Globe" of the time shows that almost invariably friends and foes alike were so much impressed by his oratory as to feel obliged to pay tribute to him on the spot. Of his farewell address, upon leaving the Senate when his state, Louisiana, seceded from the Union, Sir George Cornewall Lewis said to Lord Sherbrooke: "Have you read Benjamin's speech? It is better than our Benjamin [meaning Disraeli] could have done."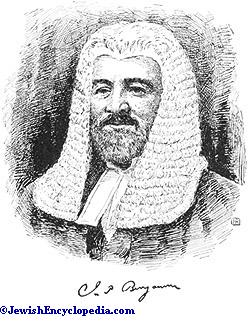 Benjamin was frequently called upon to deliver addresses and orations on national holidays and other non-political occasions; and competent judges declare that he was even happier at these times than in his political addresses and arguments. His right to be regarded as one of the greatest of the world's orators is no longer open to dispute. It was recently forcibly evidenced by his inclusion, with appropriate examples of his style and comment, in the comprehensive and judiciously edited series of "The World's Best Orators" (x. 97-110) as well as in "The World's Best Orations" (i. 398), the former edited by Prof. Guy Carleton Lee, and the latter by Justice David J. Brewer. Henry L. Dawes, surely no indifferentjudge, has well classed Benjamin with Sumner and Beecher, Wendell Phillips, Yancey, and Breckinridge, as having "stirred multitudes, aroused passions, and fired the public heart in terms not less eloquent than the loftiest productions of Fox or Pitt, of Patrick Henry or John Adams."
Pro-Slavery Advocate.
In the Senate Benjamin's constitutional and legal arguments ever attracted particular attention, and made him the leader par excellence in the defense of slavery and, later on, of secession. He never actively identified himself with Jewish communal affairs; but his views and actions led to much unjustified identification of American Jews generally with the pro-slavery cause (see Anti-Slavery Movement in America). Thus, one of his most powerful pro-slavery outbursts provoked Senator Wade's satirical reference in the Senate to "Israelites with Egyptian principles"; and even more pronounced attacks in the Senate and in the Northern press generally, on the Jews as favoring slavery, followed, when Benjamin became so prominently identified with the cause of the Confederacy.
The late Isaac M. Wise, in his "Reminiscences," gives an account of an interesting discussion between Benjamin, Daniel Webster, Maury the scientist, and himself, relative to their religious faiths, in the course of which Benjamin declined to permit his Jewish religious views to be described as Unitarian, as Webster had claimed the faiths of all four were in their essence. In 1854 he presented to the Senate, on behalf of American Jewish citizens, a petition calling for governmental action against Swiss anti-Semitic discriminations recognized in a treaty with our government; thus acting as spokesman for the American Jews.
Jefferson Davis' Right-Hand Man.
Upon the organization of the Confederate government, President Jefferson Davis immediately called Benjamin into his cabinet as attorney-general (Feb. 25, 1861), to which position was added that of acting secretary of war (Sept. 17, 1861). On Nov. 21, 1861, he became secretary of war, resigning the portfolio of the Department of Justice; and he retained this position till March 17, 1862, when he became secretary of state, which office he retained till the collapse of the Confederacy in 1865.
Throughout, Benjamin was Jefferson Davis' most intimate and most influential adviser, and was generally described as the "brains of the Confederacy."
James Schouler, in his "History of the United States" (vi. 89), remarks:
"Contemporaries had said at the outset that Toombs was the brain of the Confederacy; but that title, as events developed, belonged rather to Attorney-General Benjamin, the ablest, most versatile, and most constant of all Davis' civil counselors, who acted as secretary of war after Walker's retirement in September, and was then by the following March installed secretary of state, to remain premier until the bitter end, sanguine and serene in bearing, through all mutations of fortune and misfortune."
During much of this time, particularly during his incumbency of the secretaryship of war, Benjamin was extremely unpopular; but President Davis never for a moment lost confidence in him. He resigned the war portfolio on account of the Confederate reverses in connection with the Roanoke Island campaign in 1862, for which he was commonly held in a large degree responsible; but, in spite of censure from the Confederate Congress, President Davis promoted him to the secretaryship of state.
This circumstance has recently been cleared up, through evidence that Benjamin was in no way to blame for these mishaps, but patriotically sacrificed himself, with President Davis' knowledge, by intentionally withholding his justification from the Congressional committee. Disclosure of the true facts would have involved an exposure of Confederate dearth of ammunition, which might, through general publication, have seriously jeopardized the Confederate cause at the time.
Benjamin's most important labors were, however, rendered in connection with the diplomatic activities of the Confederacy. Unfortunately, a thorough study of the diplomacy of the Confederacy has not yet been published, nor any adequate biography of Benjamin, of which that would be the principal chapter. But by such a publication it would be shown how near the Confederacy came to securing European intervention—particularly through the aid of Napoleon III.—by the tempting and states-manlike efforts of the Confederate state department under Benjamin's direction, and to the probable transformation of an insurrection into a successful revolution in consequence. Even published data, however, not to mention oral reminiscences, justify the conclusion of the late I. M. Wise, who in an editorial in the "American Israelite," May 16, 1884, said that "he was undoubtedly the most distinguished statesman of the Jewish family in this (19th) century and country."
Begins Life Anew in England.
At the close of the Civil war Benjamin fled to the West Indies and then to England, losing his American property by confiscation. Here, at the age of fifty-five, he had to commence bread-winning anew. Early in 1866 as a British subject he entered as a law student at Lincoln's Inn, and in June of that year was called to the English bar, the usual term being curtailed by reason of his past eminence and acumen, through the influence of distinguished English judges. In 1868 his work on "The Law of Sale of Personal Property" appeared, and immediately had a marked success on both sides of the Atlantic. It has gone through edition after edition, and may well be described as the most successful and classical legal text-book of the latter half of the nineteenth century. His success at the English bar, after a brief interval during which he had been compelled to take up editorial work on the London "Daily Telegraph," was remarkable, particularly in connection with colonial appeals. His income for a number of years prior to his retirement from the bar (December, 1882) is said to have been upward of $200,000 per annum. In 1872 he attained the rank of Queen's Counsel.
Is Leader of British Bar.
A farewell dinner was given in Benjamin's honor by the bench and bar of England in the hall of the Inner Temple, London, on June 30, 1883, under the presidency of the attorney-general, Sir Henry James. His standing as the unquestioned leader of the British bar had been generally recognized forsome years prior to his retirement. He died at Paris May 6, 1884, his wife and a daughter—Ninette, wife of Capt. Henri de Bousignac of the 117th regiment of the French line—surviving him. Benjamin married in New Orleans, at a time when there was no organized Jewish congregation there, a Catholic lady of the name of Natalie St. Martin. Investigation has failed to confirm the rumor that he abandoned the Jewish faith on his death-bed.
Bibliography:
H. C. Tompkins, Judah P. Benjamin (Alabama State Bar Assn. Report, 1896, pp. cxx.-cxxxvii.);
J. A. Hamilton, in Dict. of National Biography, iv. 223;
Scott, Distinguished American Lawyers, pp. 43-50;
The Green Bag, i. 365, 366;
The Law Times, lxxv. 188, lxxvii. 47 (obituary from the London Times);
Francis Lawley, in The Athenœum, May 12, 1888, i. 599;
I. M. Wise, editorial in American Israelite, May 16, 1884;
idem, Reminiscences, 1901;
Bigelow, France and the Confederate Navy;
Bullock, Secret Service of the Confederacy;
Baron Pollock, Reminiscences in Fortnightly Review, lxix. 354;
Sabin's Dictionary of Books Relating to America, vol. ii., 64;
Bancroft's Life of William H. Seward;
B. H. Wise, Life of Henry A. Wise. Since the foregoing was written, J. M. Callahan's valuable study, The Diplomatic History of the Southern Confederacy (Baltimore, 1901), has been published, throwing much light on certain phases of Benjamin's career.
A.
M.
J.
K.