BERLIN, MOSES (MOISEI JOSIFOVICH):
Scholar, communal worker, and government official; born at Shklov, Russia, 1821; died in St. Petersburg March 25, 1888. He received a good home education and then was sent abroad, where he studied philosophy and philology at the universities of Königsberg and Bonn. In 1845, while at Königsberg, he published "Meṭab Higgayon," a philosophical treatise in Hebrew with the Latin title "Ars Logica," with an introduction in Latin by Professor Freistadt.
Returning to Russia in 1849, he received a position as teacher in the government Jewish school of Mohilev, and in 1853 was appointed by the minister of the interior as adviser on Jewish affairs to the governor-general of White Russia. Berlin was transferred to St. Petersburg in 1856 and attached to the department of public worship as adviser on foreign creeds, with the title "Uchony Yevrei" (A Learned Jew). In this position Berlin was frequently called upon to participate in the framing of laws concerning the Jews. At the same time he assisted to a considerable extent Count M. A. Korff in organizing and arranging the Imperial Public Library of St. Petersburg.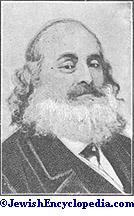 Moses Berlin.
In 1859 Berlin published "Byedstviya Vremion," a Russian translation of

, the work of Jeshua ben David of Samosc. This translation appeared in vol. i. of the "Transactions" of the Moscow Society for the Study of the History and Antiquities of Russia ("Trudy Moskovskavo Obshchestva Istorii i Drevnostei Rossii "), and also in book form. In recognition of this work Berlin was elected corresponding member of the society. He published in 1861 "Ocherk Etnografii Yevreiskavo Naseleniya v Rossii." This work on the ethnography of the Russian Jews was composed at the instance of the Imperial Russian Geographical Society, which elected him an active member. In 1862, in reply to Aleksandr Aksakov's attacks on the Talmud in the journal "Den," Berlin published "Bugulminski Talmudist" and other articles on the Jewish question.
Berlin was very active in the Jewish community of St. Petersburg, and was a member of the two Jewish delegations to Alexander II. in 1868 and to Alexander III. in 1881 respectively.
His son Leo Berlin is a distinguished lawyer. His daughter Fanny Berlin Kaufmann (born at Vitebsk Nov. 8, 1850; died at St. Petersburg 1896) graduated from the women's gymnasium of St. Petersburg, studied law at the University of Bern, and was graduated thence as doctor of law summa cum laude. She married Prof. Hilarion Kaufmann, and became prominent in the higher society of St. Petersburg. Her bust by Professor Zalello is exhibited in the Imperial Academy of Fine Arts at St. Petersburg.
Bibliography:
L. Gordon, in Vengerov's Kritiko-Biograficheski Slovar, iii. s.v.;
Khronika Voskhoda, 1888, No. 12.
H.
R.