BIEDERMANN, MICHAEL LAZAR:
Austrian jeweler and merchant; born at Presburg, Hungary, Aug. 13, 1769; died at Vienna Aug. 24, 1843. When fifteen years old he went to Vienna and was apprenticed to an engraver. In 1787 he gained a prize for modeling in wax, and in 1789 one for engraving. Prior to 1792 he was known as Michael Lazar, but in that year he received permission to live in Vienna as a seal-engraver, and to adopt the name Biedermann. He was entrusted with the engraving of the imperial seals. Thus he at once became prominent in his trade, and by 1800 was enabled to open a jeweler's store.
Visiting the fair at Leipsic, Biedermann became interested in the wool trade, and in 1802 commenced business as a wool merchant. Here, as in the jewelry business, he was eminently successful. In 1807 an English firm bought wool from him at the Leipsic fair to the amount of $300,000. In 1808 he received from the Austro-Hungarian government a permit to trade as a wholesale merchant, and through his energy a wide field was opened to Austrian agriculture, and to the manufacture of woolen goods, the methods of which he greatly improved. He succeeded in making his firm one of the leading houses of Austria.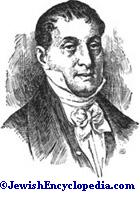 Michael Lazar Biedermann.
Biedermann took great interest in the welfare of the Jewish community of Vienna, of which he was the representative from 1806 till his death. In 1807 he instituted a fund for the sick, and in 1839 a pension fund for officers of the community.
In 1830 Biedermann received the title of "Jeweler to the Emperor of Austria."
Bibliography:
Ignatz Reich, Beth-el, Ehrentempel Verdienter Ungarischer Juden, i. 60 et seq., Budapest, 1856;
G. Wolf, Geschichte der Israelitischen Cultusgemeinde in Wien, pp. 57 et seq., Vienna, 1861;
David Löwy, Gallerie der Verdienstvollen Juden des XIX. Jahrhunderts, Zunächst ans Oesterreich-Ungarn, part i., p. 9. Vienna, 1882;
Kohut, Berühmte Israelitische Männer und Frauen, p. 377, Leipsic, 1900.
S.
F.
T.
H.