BOOK-PLATES (Ex-Libris):
Labels with emblematic designs, with references to the names of the owners of the books in which they are inserted. Bookplates came in almost as soon as the art of printing, but one of the earliest known instances of their adoption by Jews is the book-plate of David Friedländer, given on page 314. So far as is known, none of the great Jewish book-collectors had any special sign by which their books could be identified, as most of them contented themselves with inserting their initials.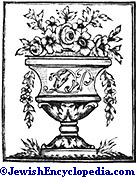 Book-Plate of De Pinto Family.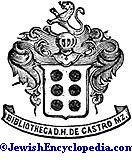 Book-Plate of D. H. de Castro.
With the revival of the fashion of book-plates in recent times many Jews of means adopted the custom, but few of their book-plates have any specific Jewish interest.Of recent years the artist Lilien has designed book-plates of distinctly Jewish character, two of which are reproduced in this volume. See p. 315).
Bibliography:
Ost u. West. i. 521, 522, 821-824;
A. Wolf, in Monatschrift, xlii. 522 et seq.
J.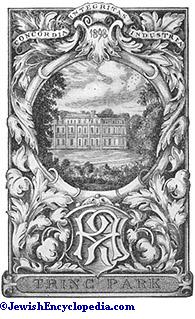 Book-Plate of Lady Rothschild.
(Etched by C. W. Eherborn.)