CANTARINI, SAMUEL (SIMON) BEN GERSON HAKOHEN:
Official procurator of the Jewish community of Padua; born about 1561; died 1631 during the plague, to which also two of his sons and other members of his family succumbed. His sons were Azriel, Kalonymus, and Judah Cantarini. Isaac Ḥayyim Cantarini was his grandson.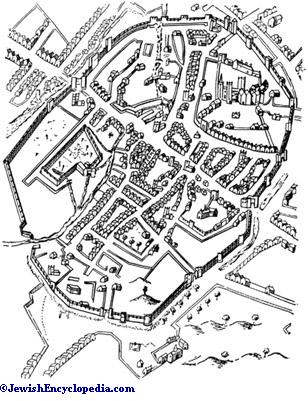 Map of Canterbury, Showing Position of Jewry.
(From Speed, "The Theatre of the Empire of Great Britaine," 1676.)
Bibliography:
Nepi-Ghirondi, Toledot Gedole, Yisrael, p. 342;
Mortara, Indice, p. 10.
L.
G.
I.
Ber.