CHAJES or CHAJAS, ẒEBI HIRSCH B. MEÏR:
Talmudist, literary historian, and rabbi; born at Brody Nov. 20, 1805; died at Lemberg Oct. 12, 1855. His father, a scion of the famous Ḥayot family of scholars, was a highly educated banker who lived for fifteen years at Florence before settling at Brody. He provided a good Jewish as well as secular education for his son, who even at the age of five years showed extraordinary talents. At Brody, where it was considered a sin for a Jew to speak German, the boy was taught French, German, and Italian by his father, who was himself familiar with six European languages. He also received instruction in Latin, natural science, history, etc. But rabbinical lore was his chief study, his teachers being Zanwil Margaliot of Przemysl, Ephraim Margaliot, and Elazar Landau of Brody. The last-named two Talmudists, although void of all modern scientific methods, were yet men of critical insight, and doubtless had a great influence on Chajes. At the age of twenty-two he received his diploma as rabbi, and a year later took charge of the important community of Zolkiev, which numbered among its members Nachman Krochmal. Although dissimilar in character and gifts, the two formed an intimate friendship, which exerted a specially wholesome critical influence on Chajes, knowledge and extraordinarily wide reading. When, in 1846, the law was promulgated in Austria compelling rabbinical candidates to pass a university examination in the liberal arts and philosophy, Chajes, though in office, passed his examination at Lemberg, and received the degree of doctor of philosophy. After officiating for twenty-four years as rabbi of Zolkiev, he accepted a call as chief rabbi of Kalisch, Russian Poland, where he remained until shortly before his death, when he returned to Zolkiev. He stayed there for a short time only, and then went for medical treatment to Lemberg, where he died. Chajes left several learned sons, among whom may be mentioned Solomon, Moses, and Isaac, chief rabbi of Brody, (born 1843 and died Feb. 1901).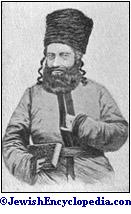 Ẓebi Hirsch Chajes.
His Works.
Chajes was the author of the following works: "Misped Tamrurim," a funeral oration on the death of Emperor Francis I. (Zolkiev, 1835); "Torat Nebi'im," or "Eleh ha-Miẓwot," being thirteen treatises on the authority of Talmudic tradition, and on the organic structure and methodology of the Talmud (ib. 1836); "Iggeret Biḳḳoret," an examination into the Targumim and Midrashim (ib. 1840; with notes and revisions by Jacob Brüll, Presburg, 1853; German translation by Julius Fürst, in "Orient, Lit." i. Nos. 44 et seq.); "Aṭeret Ẓebi," six treatises on different subjects, which have appeared under separate titles, namely: (1) "Derush," an address on the accusation that the Jews are averse to agriculture and trades as means of livelihood; (2) "Mishpaṭ ha-Hora'ah," on the constitution and authority of the Great Sanhedrin; (3) "Tif'eret le-Mosheh"; and (4) "Darke Mosheh," a defense of Maimonides against the attacks of S. D. Luzzatto and Reggio, also on the dogmatics of Maimonides in his halakic works (a discourse on the blood accusation is added as an appendix); (5) "Iggeret Biḳḳoret," with newly added notes; and "Maṭbea' ha-Berakot," on the principle according to which the Rabbis pronounce the blessings in performing religious offices, to which are appended responsa under the title "Aṭeret Ẓebi" (ib. 1840-41). Chajes wrote also "Darke ha-Hora'ah," an examination of the rules that obtained in Talmudic times in deciding practical religious questions (Zolkiev, 1842); "Mebo ha-Talmud," Introduction to the Talmud (ib. 1845; translated in part by Jost in "Orient, Lit." vi. 16 et seq.); "She'elot u-Teshubot," responsa and scientific treatises (ib. 1850); "Imre Binah," six treatises, on the relation of Yerushalmi to Babli, on lost Haggadah collections, on the Targumim, on Rashi's commentary to Ta'anit, and on Bat Ḳol (ib. 1849); and "Minḥat Ḳena'ot" against Reform (ib. 1849). Chajes also contributed to different periodicals, among which were "Literaturblatt des Orients" and "Zion" (edited by Creizenach and Jost); and he included these contributions in his collected works. His notes to the Talmud, published first in the Vienna edition and then in that of Wilna, are most valuable, and throw much light on the text. The Wilna editions of Ḥabib's "En Ya'ḳob" (1876, 1894)contain the portion of Chajes' "Mebo' ha-Talmud" dealing with the Haggadah, as well as his notes to the haggadic passages of the Talmud.
His Importance.
Krochmal, Rapoport, and Chajes form the trium-virate of the critical school of Galicia in the second third of the nineteenth century. Although Chajes lacked the penetrating insight of the first-named and the critical sense of Rapoport, he excelled both in acumen and range of knowledge. His contributions to the history of the Targumim, the Halakah, and the Haggadah have to some extent been superseded by later investigations, yet he rendered great service in that field, because he paved the way for those investigations. Geiger's hypothesis regarding the Jerusalem Targumim is, as he himself admits ("Z. D. M. G." xiv. 314), but the carrying out of the idea which Chajes had developed in his "Imre Binah." There are few modern works dealing in detail with the Halakah or the Haggadah which have not profited by the labors of Chajes, although his name is often passed over in silence. His Introduction to the Talmud is especially noteworthy. For the conservative Chajes the Talmud is everywhere the source of law, even where it does not embody the oldest tradition; hence a Talmud introduction means for him chiefly a systematization of the forms that the traditional law and all connected with it assumed in the schools. In this respect Chajes' Introduction is the only attempt made on the part of Orthodoxy to formulate the nature, extent, and authority of tradition. Although the proofs of the truth and necessity of tradition are not valid from a strictly scientific point of view, yet it may be assumed that Chajes' conception of tradition was the one that must have prevailed in Talmudic times. Whatever one's practical attitude toward this question may be, Chajes' representation of tradition is highly important for the comprehension of Talmudic literature.
Attitude Toward Reform.
The views expressed in his works are not an entirely trustworthy criterion of Chajes' attitude on religious questions. A rabbi in a Galician town, most of the members of his community took him probably for an Apiḳoros, who only doubted the genuineness of the Zohar; therefore Chajes had to be guarded in the expression of his liberal views, and frequently his views on important doctrines are to be read only between the lines. On reading Chajes' treatise on the Haggadah in his "Introduction," one must admire the courage with which he uttered such heretical opinions without regard to his surroundings. Jost's criticism of Chajes that he changed "from a liberal thinker favoring Reform to a bitter persecutor and attacker of all that is calculated to arrest superstition" (Jost's "Annalen," 1841, p. 72) is unfounded. Chajes' tolerance toward scientific questions is best proved by his veneration for Jost, whose works he almost knew by heart. It was the radical Reform theories of Holdheim and Geiger that he opposed, at the same time avoiding all personal attacks on the reformers.
Bibliography:
Buber, Anshe Shem, p. 199 (contains also Chajes' epitaph);
I. Bodek, in Ha-Maggid, i. Nos. 8-11;
Kohen-Zedek, in Meged Yeraḥim, i. 106-116;
Z. Sagoradski, in Ha-Asif, iv. 155-160;
Zeitlin, Bibl. Post-Mendels. pp. 53-55;
Rapoport, in Kerem Ḥemed, vi. 204-259 (a very severe criticism of Chajes' Iggeret Biḳḳoret).
L.
G.