DAVID, FERDINAND:
Violinist and violin-teacher; born at Hamburg Jan. 19, 1810; died suddenly July 19, 1873, near Kloster, Switzerland, while on a mountain tour with his family. His musical talent manifested itself early; and after a course of only two years with Spohr and Hauptmann at Cassel, he made his début in 1825 as a virtuoso in the Gewandhaus, Leipsic. During 1827 and 1828 he was a member of the orchestra of the Königsstädtische Theater in Berlin, where he first became acquainted with Felix Mendelssohn. A year later he became first violinist in the private quartet of a wealthy and influential amateur of Dorpat, Baron von Liphardt, whose daughter he subsequently married. He was in Russia from 1829 until 1835, making frequent and successful tours to Riga, St. Petersburg, Moscow, and other important cities.
When, in 1835, Mendelssohn became conductor of the Gewandhaus concerts, he chose David for his concert-master; and here the young violinist found ample scope for the development of his genius, particularly after the establishment of the Conservatory in 1843. In this position he remained until his death; and it was largely due to his influence that Leipsic remained the center of violin-playing in Europe after the death of Mendelssohn, Schumann, and Gade. The relations between Mendelssohn and David were particularly cordial, and upon the death of Mendelssohn, David was one of those to whom the posthumous works of the master were entrusted for publication.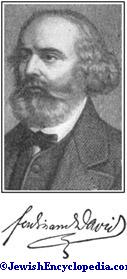 In his playing David combined the qualities of Spohr with the greater technical skill and brilliancy of the modern school. Joachim, Wilhelmi, and other eminent violinists of the present day were among his pupils. It was largely due to his initiative that many old masterpieces of the Italian, French, and German schools were preserved; for he not only took a prominent part in preparing revised editions of the works of Haydn, Beethoven, and others, but actually edited and published, for purposes of study, nearly the whole classical repertoire of the violin. His greatest work in this domain is the celebrated "Die Hohe Schule des Violinspiels: Werke Berühmter Meister des 17ten und 18ten Jahrhunderts," consisting of twenty-three numbers containing selections from Porpora, Tartini, Vivaldi, Leclair, J. S. Bach, and many others. Scarcely less important are the studies, op. 39, 44, 45, and 70. Among his other works are the following: Five concertos, that in D minor (op. 35) being arranged also by A. Wilhelmj; 6 caprices, op. 20; "Concert Polonais," in E; 12 Salonstücke, op. 24; 5 ib., op. 28; 30 Charakterstücke, entitled "Aus der Ferienzeit" (op. 46, 47, 48, and 50); "Bunte Reihe," 24 pieces, op. 30, and its continuation, "Nachklänge," 15 pieces, op. 41; 8 Kammerstücke, op. 36; a comic opera, "Hans Wacht," 1852; and, in addition to these numerous variations on original, operatic, national, and song themes, as well as other minor compositions.
Bibliography:
Grove, Dictionary of Music and Musicians;
Riemann, Musik-Lexikon;
Baker, Biographical Dictionary of Musicians;
J. Eckhardt, Ferdinand David, Leipsic, 1888;
Alfred Därfell, Die Gewandhaus Concerte zu Leipsic, 1884.
S.
J.
So.