EDREHI, MOSES:
Moroccan cabalist and teacher of modern and Oriental languages of the earlier part of the nineteenth century; born in Morocco; resided in Amsterdam and in England. He was the author of: "Yad Mosheh," sermons for the festivals, Amsterdam, 1809, "Ma'aseh Nissim," an account of the River Sambatyon, London, 1834 (of this a Hebrew and a German edition appeared at Amsterdam, 1818); "An Historical Account of the TenTribes, Settled Beyond the River Sambatyon in the East," London, 1836. Edrehi was a firm believer in the existence somewhere in western Asia of the Ten Tribes.
Edrehi appears to have been in Edinburgh in 1829, for in June of that year there appeared in "Blackwood's Magazine" one of Christopher North's "Noctes Ambrosianæ," devoted in large measure to Edrehi's peculiarities. His long beard and Oriental costume, and the mixture of tongues he employed to convey his meaning, are all adverted to with kindly humor.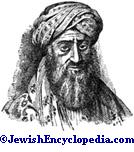 Moses Edrehi.
Bibliography:
Steinschneider, Cat. Bodl. col. 1799;
Zedner, Cat. Hebr. Books Brit. Mus. s.v.
J.
G.
L.