EINHORN, DAVID:
German rabbi, preacher, and theological writer; leader of the Reform movement in America; born at Dispeck, Bavaria, Nov. 10, 1809; died in New York Nov. 2, 1879. A disciple of R. Wolf Hamburger and R. Joshua Moses Falkenau in Fürth, he received the Morenu title in his seventeenth year, and pursued his philosophical studies in Würzburg and Munich. When the congregation of Wellhausen near Uffenheim elected him rabbi in 1838, the Bavarian government would not confirm the election on account of his liberal views. In 1842 he became rabbi of Hoppstädten and chief rabbi of the principality of Birkenfeld. Though he advocated Reform as represented by Geiger (see "Rabbinische Gutachten über die Verträglichkeit der Freien Forschung mit dem Rabbineramte," pp. 125-139, Breslau, 1842), he strenuously opposed the radical tendencies of the Reformverein in Frankfort-on-the-Main, which, as he wrote, "instead of regenerating Judaism upon a historical basis and with full recognition of Israel's priestly character and Messianic mission, desired to create a schism in Judaism under the pretext of Reform, denying the very essentials of the Jewish faith" ("Allg. Zeit. des Jud." Dec. 5, 1844).
His Principles.
At the rabbinical conference at Frankfort in 1845, Einhorn pleaded against Z. Frankel in favor of the vernacular in the liturgy and the elimination of all prayers referring to the restoration of the Jewish state and Temple, but insisted on the accentuation of the universal character of the Messianic hope. At the Breslau conference in 1846, he was appointed chairman of the committee on the dietary laws (see Dietary Laws). In 1847 Einhorn succeeded Holdheim as chief rabbi of Mecklenburg-Schwerin. In the same year he was charged with heresy by Franz Delitzsch, then professor at Rostock, for having pronounced the blessing over an uncircumcised Jewish child in the synagogue; but he refuted the charge by referring to rabbinical authorities who declared that the child of Jewish parents is entitled to all Jewish rights and privileges (see "Sinai," Nov., 1857 et seq.; L. Donath, "Geschichte der Juden in Mecklenburg," pp. 237-244, Leipsic, 1874; and Circumcision).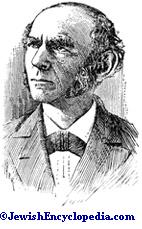 David Einhorn.
Opposed by the Conservatives, Einhorn found his position becoming perilous under a reactionary government, and he accepted a call as rabbi of the Reform congregation at Budapest in Oct., 1852. But the Austrian government also was opposed to the Reform movement, and, despite the protestations and personal entreaties of Einhorn, the temple was, after a brief period, ordered closed.
Einhorn in America.
Einhorn determined to continue his career in America. In 1855 he became rabbi of the Har Sinai Congregation of Baltimore, and was soon the leader of the radical Reform element, issuing a protest against Wise, Lilienthal, and Cohn, who, under the title "American Sanhedrin," had, at a rabbinical conference held in Cleveland, declared "the Talmud to be the only legally binding interpretation of the Bible," and endeavored to organize an Americansynod on that principle. Soon afterward he started, in the interest of radical Reform Judaism, a monthly magazine in German under the name of "Sinai." In 1858 his prayer-book, "Olat Tamid," appeared; it was at once recognized as the standard Reform liturgy in America. Afterward its principal contents were, though in a somewhat altered form, embodied in the Union Prayer-book (see Reform Judaism).
Opposes Slavery.
A man of resolute character and well-defined principles, Einhorn impressed friends and antagonists alike by his consistency and courage. When the Civil war broke out in 1861, he denounced the defenders of slavery so unsparingly that to stay in Baltimore became dangerous in the extreme. The mob threatened his life, and he fled on the night of April 22, 1861, guarded by friends, to Philadelphia, where he became rabbi of the Congregation Keneseth Israel. Philadelphia had hitherto been the bulwark of conservative Judaism; Einhorn, from his pulpit and in his periodical "Sinai," which he continued until 1863, fought for more liberal views.
In August, 1866, Einhorn became rabbi of the Adath Yeshurun congregation in New York. Here he worked, in common with Dr. Samuel Adler, rabbi of Temple Emanu-El, and with his successor in Philadelphia, Dr. Samuel Hirsch, for the propagation and better comprehension of the views and aims of Reform Judaism. In 1869 a rabbinical conference was held in Philadelphia, at which he was the leading spirit (see Conferences, Rabbinical).
At the approach of his seventieth year he resolved to retire; his farewell sermon was delivered on July 12, 1879. In 1844 Einhorn had married Julia Ochs of Kreuznach, and of this union were born five daughters and four sons, the third daughter marrying Dr. K. Kohler, and the fourth Dr. Emil G. Hirsch.
Einhorn wrote: "Princip des Mosaismus und Dessen Verhältniss zum Heidenthum und Rabbinischen Judenthum," Leipsic, 1854 (written in Budapest; one volume only completed); "Ner Tamid," a religious catechism in German, stating concisely the fundamental principles of Reform Judaism; and many controversial articles on the religious questions of the time in "Allg. Zeit. des Jud.," "Israelit des XIX. Jahrhunderts" (1842-46), "Sinai," and "Jewish Times."
Bibliography:
H. S. Morais, Eminent Israelites of the Nineteenth Century, pp. 66-71, Philadelphia, 1880;
David Einhorn's Ausgewählte Predigten und Reden, ed. Dr. K. Kohler, New York, 1880;
Der Zeitgeist, Nos. 1 and 2, Milwaukee, 1880;
American Israelite, Supplement, Nov., 1879;
Publications Am. Jew. Hist. Soc. v. 147-151.
A.
K.