ETTING:
Name of an American family, prominent in national and civic affairs, whose history is associated with the states of Maryland and Pennsylvania, chiefly with the cities of Baltimore and Philadelphia, though some of its members are connected with the history of New York and Connecticut. Of the following members of the family little is known:
Benjamin Etting:
Resident of New York; made a freeman in 1769; fled with other patriots at the time of the capture of the city by the British, and went to Norwalk, Conn., where he died in 1778 ("Pub. Am. Jew. Hist. Soc." ii. 66, vi. 102). Moses Etting: Resident at Easton, Pa.; died during the early part of 1778 (ib. ii. 66). Reuben Etting: Joined the Revolutionary army when nineteen years of age; was taken prisoner at Charlestown; died shortly after his release (ib. ii. 66). Solomon Etting: Mentioned in a subscription list as being in Baltimore in 1773 (ib. vi. 155).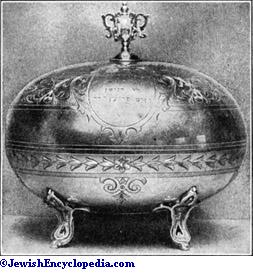 Silver Box for Etrog.
(in the possession of J. D. Eisenstein.)
The history of the following members of the family is known more fully:
Charles Edward Etting:
American general officer; born in Philadelphia Feb. 5, 1844; served with distinction as a volunteer in the army during the Civil war. He entered the Federal service as a member of the One Hundred and Twenty-first Regiment, with the grade of second lieutenant of Company D, and was promoted in turn to first lieutenant, captain, and adjutant. Assigned to the third division of the Army of the Potomac (1861), he took part in the operations at Sharpsburg (Sept. 29, 1862) and in the battles of Fredericksburg (Dec. 13, 1862), Chancellorsville (May 1-4, 1863), and Gettysburg (July 1-3, 1863), acting as staff-officer and aide-de-campthroughout the campaign. Subsequently he took an active part in organizing new regiments in his state (1864), and retired from military service June 2, 1865. At the close of the war Etting returned to Philadelphia and engaged in commerce.
Elijah Gratz Etting:
Son of Reuben Etting; born in Baltimore July 14, 1795; died in Philadelphia May 25, 1849. He was educated at the University of Pennsylvania, graduating in 1812. He studied law in Pennsylvania, and was admitted to the bar in 1816. On his return to Maryland he was elected district attorney for Cecil county in that state.
Frank Marx Etting:
American army officer; son of Henry Etting; born Dec. 17, 1833; died in Philadelphia June 4, 1890. After studying for the legal profession he commenced practising at the bar of Philadelphia Oct. 10, 1857. Abandoning law some years later, he entered the army, and was appointed paymaster, with the rank of major, in 1861. Continuing in office throughout the Civil war, he became chief paymaster to the forces (1864-67). On the expiration of his term of office he was brevetted lieutenant-colonel (of Volunteers, March 13, 1865; of Regulars, 1868). In 1868 he was appointed to the staff of Gen. Irwin McDowell as chief paymaster for disbursing the Reconstruction Fund. At the opening of the Centennial Exposition in 1876 Etting was elected chief historian of the Department of the Exposition. He was the author of a "History of Independence Hall," and at one time during his public career served as director of public schools. Other representative members of this family in Philadelphia were Benjamin Etting and Edward J. Etting, the latter of whom had two sons, Theodore Minis and Charles Edward.
Henry Etting:
American naval officer; born in Baltimore May 20, 1799; died at Portsmouth, N. H., July 10, 1876. He commenced his career Jan. 1, 1818, as midshipman, and by Nov. 7, 1826, attained the rank of purser. Four years later he was appointed paymaster, with the rank of commander (Nov. 7, 1830), and retired from the navy with the rank of captain Dec. 21, 1861. Throughout the Civil war Etting held at New York the office of purser and fiscal agent of the Navy Department. After fifty-three years of active service he was finally placed on the retired list as pay-director, with the rank of commodore (March 3, 1871).
Reuben Etting:
Citizen of Baltimore; born at York, Pa., 1762; died in Philadelphia 1848. He chose a military career, and was commissioned (1798) first captain of the Independent Blues. In 1801 he was appointed United States marshal for Maryland by Thomas Jefferson.
Solomon Etting:
Born in York, Pa., 1764; died in Baltimore, Md., 1847. He was one of those American citizens who opposed a treaty with Great Britain in 1795. He afterward removed to Baltimore, where he was elected to the city council (1825), ultimately becoming president of that body.
Theodore Minis Etting:
American naval officer; born in Philadelphia May 25, 1846. During the Civil war he volunteered, and received the appointment of acting midshipman Nov. 28, 1862, being promoted to full grade June 2, 1868. In turn he advanced through the grades of ensign (April 19, 1869) and master (July 12, 1870), attaining that of lieutenant (March 3, 1874). Etting resigned July 1, 1877, and immediately took up the study of law under Henry B. Edmunds of Philadelphia. He commenced to practise as a marine and corporation lawyer in 1879, and was the author of a treatise on "Admiralty Jurisdiction." Elected to represent the eighth ward as member of the Select Council in 1885, Etting from that time on has taken an active part in the municipal affairs of his native city, and has been reelected repeatedly. He held also the chairmanship of the municipal committee on law.
Bibliography:
Morais, Jews of Philadelphia, passim.
A.
F.
H.
V.