EZEKIEL, JOSEPH:
Indian Hebraist; one of the heads of the Beni-Israel of Bombay; born in that city 1834. Ezekiel was educated in the school of the Free General Assembly by the Rev. John Wilson, and under his tuition he learned the rudiments of Hebrew, his later knowledge being self-acquired.
Ezekiel's first post was as assistant teacher in the David Sassoon Benevolent Institution (1856), from which he rose in five years to be head master. Here he remained for forty years. In 1871 Ezekiel was appointed examiner in Hebrew at the University of Bombay, and in 1879 was made a fellow of the university. In 1890 he became justice of the peace.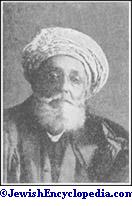 Joseph Ezekiel.
Aside from his labors as teacher, translator, and commentator, Ezekiel has worked unceasingly for the good of the Jews in Bombay. His promptness of action probably saved the entire community from serious trouble in 1882, when the blood accusation was brought forward by a native paper.
When the famine and plague devastated Bombay and the central provinces, Ezekiel was asked by the government to carry out preventive measures among his people. He was named president of the Beni-Israel Plague and Famine Relief Fund.
Ezekiel's principal works are translations of the prayers, treatises on the Jewish religion, and textbooks of Hebrew, mainly written in Mahrati for the use of the Beni-Israel. Among them may be mentioned: "The Jewish Marriage Ceremony," transl. 1862; "History of Antiochus Epiphanes," etc., transl. 1866; "Hebrew Primer," 3d ed., 1881; "The Ethics of the Fathers," transl. 1870; "Scripture Proofs of Jewish Doctrines," 1876; "The True Aspect of Judaism," 1879; "A Chronological Outline of Ancient History," 1880; "A Handbook of Hebrew Abbreviations," 1887. Besides these, he has edited and translated into Mahrati the whole cycle of Jewish liturgy.
Bibliography:
The Jewish Year Book, 1900, p. 264;
J. Murray Mitchell, In Western India;
Jewish Chronicle (London), Aug. 10, 1900, p. 12.
J.
E.
Ms.