GENEVA: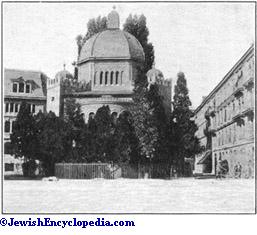 Synagogue at Geneva, Switzerland.
(From a photograph.)
Capital of the Swiss canton of the same name; situated at the southwest end of Lake Geneva; population (1900) about 80,000, of whom 1,076 are Jews. Jews lived there, as well as in other towns along the lake, as early as the fourteenth century. In 1348 those living along Lake Geneva, which then belonged to Savoy, were accused of poisoning the wells; many of them were racked and burned. In Geneva, where they lived in a separate street, the Christian merchants frequently attacked them, and in 1490 drove them out of the city. Thereafter every Jew who passed through Geneva had to pay a toll of four denarii; a pregnant Jewess, eight denarii. A legendary report says that in 1582, German Jews proposed to the authorities of Geneva to allow them to come in numbers of from 8,000 to 10,000 and build an entire city in the vicinity of St. Victor, for which privilege they offered to pay a considerable tribute as well as to perform military service. In 1632 NicolasAntoine, a young Protestant pastor who had been converted to Judaism, was publicly burned.
The modern history of the Geneva community begins with the year 1783, when a number of Lorraine Jews settled in the suburb Carouge, which belonged to the Duke of Savoy until he ceded it to Geneva in 1816. Under French domination several Jews settled in Geneva, enjoying complete freedom until 1815, when French rule ceased. The law of Nov. 14, 1816, forbade their owning land in the canton. Not until 1841 did they again receive civic equality. In 1843 the first Jews were naturalized, and were granted full religious liberty. For several decades the few Jews who lived in Geneva worshiped in Carouge, where the old synagogue still exists. In 1857 the law of Nov. 14, 1816, was repealed, and all the Jews who lived in Carouge were, without charge, enfranchised. The Jews in Geneva, numbering about 200, thereupon proceeded to build a temple on a piece of land given them by the city. This temple was dedicated in 1859, and in the same year Joseph Wertheimer, a pupil of the rabbinical school of Metz, was chosen rabbi. The old cemetery at Carouge has been extended by the community.
Several Jews have been, and are, professors at the Geneva University, among them being the rabbi Joseph Wertheimer and M. Schiff. The Jews of Geneva are engaged chiefly in the clock-making industry and in commerce.
Bibliography:
Ulrich, Sammlung Jüdischer Geschichten in der Schweiz, p. 228, Basel, 1780;
Grätz, Gesch. vii. 387;
Jost, Neuere Gesch. ii. 37.
D.
M.
K.