GOLDMARK, KARL:
Hungarian violinist, pianist, and operatic composer; born at Keszthely, Hungary, May 18, 1830, where his father, Ruben Goldmark, was cantor in the synagogue. Karl received a rudimentary musical education from a schoolmaster in his native town, and at the age of twelve entered the school attached to the Oedenburger Musikverein. At a concert given by that society in 1843 Goldmark displayed such talent that his parents decided to send him to Vienna, where, after a preparatory course with Jansa (1843-44), he entered the Conservatorium, becoming a pupil of Böhm (violin) and Preyer (harmony). Here he continued his studies until the outbreak of the revolution in 1848, when he was compelled to enter the army.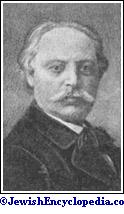 Karl Goldmark.
Musical Studies.
Upon completing his term of service his eldest brother, Joseph Goldmark, enabled him to continue his musical studies. Shortly after Karl entered the Berlin Conservatorium, his brother, who had been an active participant in the insurrection and who was suspected of complicity in the assassination of Minister of War La Tour, was compelled to leave Hungary, and Karl was constrained to suspend his studies and to seek an engagement in a theater orchestra. In this he was successful; and after a brief career as an orchestral player in Raab, Hungary, he in 1850 secured a position as violinist in the Josefstädter Theater, Vienna.
It was not until 1852 that Goldmark began to compose, his first efforts showing clearly the influence of Felix Mendelssohn-Bartholdy. In 1857 he gave a concert of his own compositions, which proved a great success, and he determined, notwithstanding the offer of an engagement at the Vienna Carltheater, to discontinue his career as an orchestral player. In 1864 he wrote his overture to "Sakuntala," a composition which rapidly became popular and served to establish the fame of the composer.
His Compositions.
Goldmark's next composition, the "Queen of Sheba," was played on March 10, 1875, at the Vienna opera-house. Its reception was a most enthusiastic one, and the composer was compelled to appear forty times before the curtain. The "Queen of Sheba" has since been performed in nearly all the principal cities of Europe and America; in England, however, in consequence of the Biblical nature of the subject, its production was forbidden. The number of performances in Budapest alone amountedto over 175. It was produced at the Metropolitan Opera-House, New York, on Dec. 2, 1885, with Anton Seidl as conductor. On Nov. 19, 1886, Goldmark's second but somewhat less successful opera, "Merlin," was produced at the Vienna opera-house.
The influence of Oriental, or, more properly speaking, Hebraic melody is everywhere discernible in the best compositions of Goldmark. While he has undoubtedly accomplished his best work in the field of opera, several of his overtures are remarkable for their superb orchestration and power of graphic description. In addition to the foregoing compositions, Goldmark has written the operas: "Das Heimchen am Herd" (after Charles Dickens' "The Cricket on the Hearth"), which was performed at Vienna March 21, 1896, with great success; "Der Kriegsgefangene," in two acts (Vienna, Jan. 17, 1899); "Der Fremdling" (1899); and "Götz von Berlichingen," played in the principal theaters of Europe during the winter of 1902. Among the other works of Goldmark the following are the most noteworthy: the overtures "Penthesilea," "Im Frühling," "Der Gefesselte Prometheus," and "Sappho"; the "Symphony in E-flat," and that entitled "Ländliche Hochzeit"; two suites for violin and piano; the violin concerto, op. 28, and several songs and chamber-music compositions.
Bibliography:
W. J. Henderson. Famous Composers and Their Works, pp. 515-518;
Maitland, Masters of German Music, pp. 137-169;
Riemann, Musik-Lexikon.
S.
J.
So.