GORDON, LEON (JUDAH LÖB BEN ASHER):
Accused of Treason.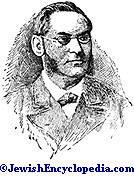 Leon Gordon.
Russian Hebrew writer and poet; born at Wilna Dec. 7, 1831; died at St. Petersburg Sept. 16, 1892. He graduated in 1853 from the rabbinical seminary of Wilna, becoming teacher of Hebrew in the governmental schools, and was engaged in that capacity about twenty years. His efforts were highly praised by the inspectors of the government schools. During the time of Gordon's activity the struggle between the younger generation, or the Maskilim, and the older, or the conservatives, took place. Gordon was accused of heresy by the latter, but was not alarmed, and satirized them in articles in different Hebrew and Russian periodicals. In 1872 he was invited to St. Petersburg as secretary of the Society for the Promotion of Culture among the Jews of Russia, and secretary of the Jewish community. There he had more scope for his literary activity, and he enriched Hebrew literature with his contributions. He was also active in communal work. During his secretaryship the Jews of St. Petersburg obtained permission to build a synagogue and to acquire a piece of ground for a new cemetery, the old one having become too small. He also improved the regulations of the community, especially those of the ḥebra ḳaddisha. But this communal work caused him great trouble owing to a quarrel between the Ḥasidim and Mitnaggedim about the nomination of a rabbi, the Ḥasidim accusing Gordon of being the cause of the discord. They denounced him as a political criminal, and in 1879, when an attempt was made against the life of Alexander II., Gordon was accused of having participated in the affair. He and his wife and children were therefore thrown into prison, April 4, 1879, where they remained forty days. Later they were exiled to a small town in the government of Olonetz. But the innocence of Gordon was quickly proved,and he was permitted to return to St. Petersburg, though he lost his position. He then became co-editor with Zederbaum of "Ha-Meliẓ," and he occupied that post, with an interruption of two years, till 1888, when he resigned. The Russian government conferred on him the title of "Honorary Citizen" in return for the services he had rendered through his propagation of science among the Jews.
Gordon was the leading Hebrew poet of his time. His chief merit consisted in the fact that he turned his attention to Jewish history, presenting in his poems a complete account of the Jews from the Biblical epoch till his own day. He was also an unrivaled prose-writer; his language was fluent and his style very biting and satirical. Gordon employed his satirical talent not only in scourging Jewish fanatics, but also in defending the Jews against their enemies. His works are: "Ahabat Dawid u-Mikal," a Biblical epopee in twelve poems with an introduction (Wilna, 1856); "Mishle Yehudah," a collection of 100 fables in verse, many of which are adaptations from ancient fabulists (ib. 1860); "'Olam ke-Minhago," in two parts, the first being a description of Russian Jewish life (Odessa, 1870), and the second a satirical description of the Ḥasidim (Wilna, 1873); "Gam Eleh, Mishle Yehudah," 21 fables in verse (Vienna, 1871); "Ḳoẓo shel Yud," a satire in verse on morals (ib. 1876); "'Ofel bat-Ẓiyyon," an elegy in four parts on the death of Michael Joseph Lebensohn (ib. 1877); "Kol Shire Yehudah," his collected poetical works in 4 vols. (St. Petersburg, 1883-84); "Kol Kitbe Yehudah," a collection of his novels (Odessa, 1889). He translated the Pentateuch into Russian in collaboration with J. Gerstein. Gordon contributed to almost all the Hebrew periodicals, to many Russian papers, to the "Allgemeine Zeitung des Judenthums" (1860-64), and to Brockhaus' "Konversations-Lexikon." His letters were published by J. Weissberg (Warsaw, 1894).
Bibliography:
Sokolov, in Ha-Asif, vi., part 1, pp. 155 et seq.;
J. Slutzki, in Luaḥ Aḥiasaf, 1893, cols. 258-285;
L. Kantor, in Voskhod, 1881, Nos. 11, 12;
S. Dubnov, in Voskhod, 1884;
Brainin, in Ha-Shiloaḥ, i. 62, 244, 332, 421;
Luaḥ Aḥiasaf, 1898, pp. 81-91.
H.
R.
D.
G.
M.
Sel.