GUASTALLA, ENRICO: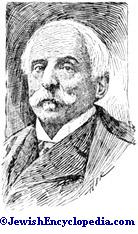 Enrico Guastalla.
Italian soldier; born at Guastalla 1828; died at Milan Sept. 28, 1903. Though brought up to a commercial life, he joined the army as a volunteer in 1848. He took part in the defense of Rome, and for his bravery in the battle of Vascello was appointed lieutenant. He afterward went to Piedmont, but, suspected of revolutionary tendencies by the government, fled to London, where he came in connection with Mazzini. In 1859 he returned to Italy and joined Garibaldi at Como. He was wounded in the leg at Volturno (Oct. 1, 1860). After a month's inaction he became a member of Garibaldi's staff. AtAspromonte the whole staff was captured and imprisoned.
Guastalla again saw active service in 1866, and fought under Garibaldi at Como, Brescia, Lonoto, Salo, and Desenzano. He retired from the army with the rank of major and the insignia of knight commandant of the Order of St. Maurice and St. Lazarus. He was member of the Italian Parliament for Varese.
Bibliography:
Juden als Soldaten, 1897, p. 117;
Jew. Chron. (London), May 10, 1895;
L'Illustrazione, Oct., 1903.
S.
J.