ABUN BEN SHARADA:
A Spanish poet; flourished at the beginning of the eleventh century, first at Lucena, afterward at Seville. None of his poetical works has survived; and his name is known only from quotations made by poets like Solomon ibn Gabirol, Moses ibn Ezra, and Judah Al-Ḥarizi. In a poem attributed to Solomon ibn Gabirol (compare Dukes, in "Orient," xi. 267) Abun is mentioned immediately after the lexicographer Menahem ben Saruk. Moses ibn Ezra, in his "Diwan" (compare Neubauer, "Cat. Bodl. Hebr. MSS." No. 1972, ii. 12), eulogizes his life in one poem and bewails his death in another. The eulogy, however, seems to be concerned with the man rather than with the poet. Indeed, Judah Al-Ḥarizi ("Taḥkemoni," iii.) classes Abun among the poets whose works have been forgotten because they were of but little interest.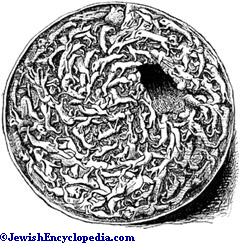 Tiamat, the Assyrian Abyss.
(From Ball, "Light from the East.")
Bibliography:
Dukes, Naḥal Ḳedumim, p. 7;
Kerem Ḥemed, v. 86;
Moses ibn Ezra, Diwan, pp. 13, 14;
Brody, in the Steinschneider-Festschrift, Hebrew part, p. 34;
Steinschneider, Cat. Bodl. cols. 1739, 2314, 2462.
I.
Br.