HENLE, FRIEDRICH GUSTAV JACOB:
Genealogical Tree of the Hendricks Family.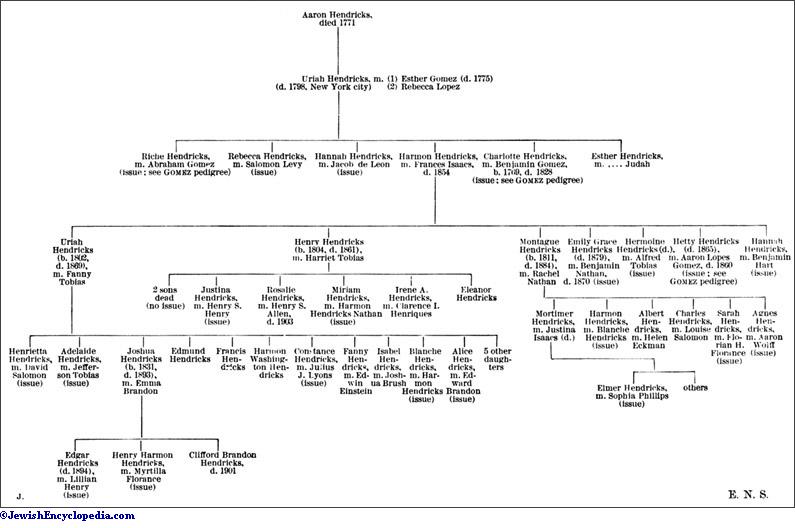 German anatomist; born at Fürth, Bavaria, July 19, 1809; died at Göttingen May 13, 1885. He received his education at his native town, where he and his parents were baptized. In 1827 he went to the University of Bonn to pursue the study of medicine. Here he joined the Burschenschaft, and took part in its political activities. For this he was suspended from the university and was transferred to the Berlin "Hausvogtei," a place of detention, to which, at that time, many students were sent. Upon being pardoned he went to Heidelberg, where he became a disciple of Tiedemann, graduating in 1832 as M.D.
After spending two years in Paris, where he took a postgraduate course, he returned to Germany and became assistant to Johannes Müller at the anatomical institute of Berlin University. In 1837 Henle was admitted to the medical faculty as privat-docent through the influence of Alexander von Humboldt. Three years later he was called to the university at Zurich as professor of anatomy and physiology, and in 1844 to Heidelberg as associate professor of anatomy, succeeding Tiedemann as professor in 1849. In 1852 he was called to Göttingen, at the university of which city he held the position of professor of anatomy until his death.
Henle's writings have become standard works; and his discoveries are important. Special mention may be made of his discoveries concerning: the cylindrical epithelium in the intestinal tract; the cuticular root-sheath of the hair; the microscopical structure of the cornea; the endothelium of the blood-vessels; the structure of the hepatic cells; and the loops of Henle in the kidneys.
From 1838 to 1842 Henle wrote reports on anatomy and pathology for Müller's "Archiv für Anatomie und Physiologie"; from 1844 to 1848 he contributed to Canstatt's "Jahresberichte über die Fortschritte der Gesammten Medizin in Allen Ländern," essays on general anatomy; and from 1849 to 1855 on both special and general anatomy.
In 1844 he founded, in conjunction with Pfeuffer, the "Zeitschrift für Rationelle Medizin", which appeared until 1869.
Of Henle's more important works may be mentioned: "Ueber Schleim- und Eiterbildung," Brunswick, 1838; "Vergleichende Anatomische Beschreibung des Kehlkopfes," Leipsic, 1839; "Pathologische Untersuchungen," ib. 1840; "Handbuch der Allgemeinen Anatomic," ib. 1841; "Handbuch der Rationellen Pathologic," Brunswick, 1846-52; "Handbuch der Systematischen Anatomic des Menschen," ib. 1855-76, 2d ed. 1876-79 (his principal work); "Anatomischer Handatlas zum Gebrauch im Seziersaal," ib. 1874-77; "Anthropologische Vorträge," ib. 1876-1880; "Grundriss zur Anatomic des Menschen," 1880, 3d ed. 1888; "Das Wachstum des Menschlichen Nagels und des Pferdehufs," Göttingen, 1884.
Bibliography:
F. Merkel, Jacob Henle, Brunswick, 1891;
Meyers Konversations-Lexikon, s.v.;
Brockhaus, Konversations-Lexikon, s.v.;
Allgemeine Deutsche Biographie, s.v.;
Waldeyer, in Hirsch's Biog. Lex. s.v.;
Pagel, Biog. Lex. s.v.;
Kussmaul, Jugenderinnerungen eines Alten Arzies, 5th ed., pp. 234 et seq., Stuttgart, 1902.
S.
F.
T.
H.