ISAAC BEN NOAH COHEN SHAPIRA:
Polish rabbi; lived in the sixteenth and seventeenth centuries; grandson of Hirsh and teacher of Joel Sirkes. He received his Talmudical training in the yeshibah of Ḥayyim ben Samuel of Kremenetz, and after filling the position of rabbi at Gorodnitza and at Beresnitza was called to Meseritz (Mezhirechye). Isaac was the author of "Sefer Zikkaron," containing all the paragraphs of the Shulḥan 'Aruk arranged in alphabetical order and rimed as an aid to memory. It was published at Cracow or at Prague, in the seventeenth century. To this was appended "Petiḥat ha-Leb," an abridgment of a more extensive work of his entitled "Harḥabat ha-Leb," containing sermons arranged in the order of the Sabbatical sections.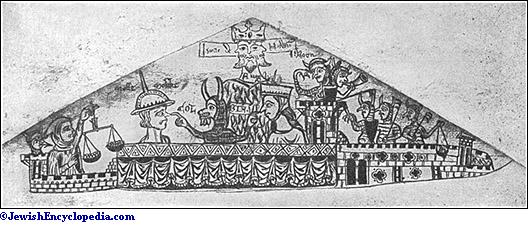 Isaac of Norwich Depicted in a Contemporary Caricature.
(In the Record Office, London.)
Bibliography:
Zunz, Z. G. p. 299;
Steinschneider, Cat. Bodl. col. 1144;
Benjacob, Oẓar ha-Sefarim, p. 157, No. 127;
Carmoly, in Ha-Karmel, vi. 301;
Fuenn, Keneset Yisrael, p. 666.
H.
R.
I.
Br.