JACOBI, ABRAHAM:
American physician; born at Hartum, near Minden, Westphalia, May 6, 1830; educated at the universities of Greifswald, Göttingen, and Bonn (M.D., 1851). Identified with the revolutionary movement in Germany, he was imprisoned at Berlin and Cologne, under the charge of high treason, from 1851 to 1853; when liberated he emigrated to America, settled in New York city, and soon became one of its leading practitioners. He became professor of diseases of children at the New York Medical College (1861-64), at the University of the City of New York (1865-70), and at the College of Physicians and Surgeons, Columbia University (1870-92), from the last of which institutions he received the degree of LL.D.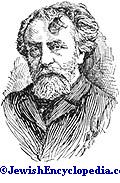 Abraham Jacobi.
Jacobi was connected also with many of the hospitals of New York city, and was president of the New York Academy of Medicine (1885-89) and chairman of the American Commission to the Fourteenth International Medical Congress at Madrid (1903).
Jacobi contributed articles on diphtheria, dysentery, etc., to Gerhardt's "Handbuch der Kinderkrankheiten." Among his works are: "Dentition and Its Derangement," New York, 1862; "The Raising and Education of Abandoned Children in Europe," ib. 1870; "Infant Diet," ib. 1874; "Diphtheria," ib. 1876; "Therapeutics of Infancy and Childhood," Philadelphia, 1878; "Intestinal Diseases," New York, 1880.
Bibliography:
Fagel, Biog. Lex.;
Hirsch, Biog. Lex.
A.
F.
T.
H.