JAFFA (Hebr. Yafo; A. V. Joppa; Greek, Joppe; Arabic, Yaffa):
(Redirected from JAPHO.)
City of Palestine and Mediterranean port, 35 miles northwest of Jerusalem. In ancient times it was Palestine's only point of communication with the Mediterranean. The cedars of Lebanon, destined for use in the construction of Solomon's Temple, were disembarked at Jaffa (II Chron. ii. 15 [A. V. 16]; Ezra iii. 7). The prophet Jonah embarked there for Tarshish (Jonah i. 3). There is no further mention of the city in the Old Testament.
Historical Data.
At a later date the Maccabean princes Jonathan and Simon wrested it from the Syrians (I Macc. x. 76, xiv. 5). At the time of the Jewish insurrection against the Romans the town was taken by assault and burned by Cestius, 8,000 inhabitants being massacred by the Roman soldiers. Some time afterward the Jews rebuilt the city walls. Pirates, putting out from the port of Jaffa, troubled the coasts of Phenicia and Syria, which brought down the Romans upon the city anew. Vespasian took it by a night attack, razed it to the ground, and erected in its place a citadel in which he placed a Roman garrison.
There is no record of any Jews in Jaffa under the Byzantine domination, but there are mentioned in Babli a Rab Adda and a R. Aḥa of Yafo (Ta'an. 16b; Meg. 16b). Under the Arabs there were no Jews in Jaffa.
During the period of the Crusades Benjamin of Tudela (1170) sojourned at Jaffa, and found there one Jew only, a dyer. At the end of the sixteenth century Jaffa, according to the traveler Cotwyk, was only a heap of ruins.
In 1780 the grand rabbinate of Constantinople officially requested a Christian official, one Hanna Domia, to protect Jews passing through Jaffa on their way to Jerusalem. In 1820 Isaiah Agimann, who acted as banker of the Janizaries at Constantinople, shocked by the humiliation to which Jews were exposed at Jaffa, purchased there a piece of real estate which he legally transferred to the Sephardic community of Jerusalem. One part of this served as a free hotel for Jewish travelers, in which was fitted up a prayer-room. Little by little the Jews established themselves in Jaffa.
A sailing vessel from the north of Africa, with a large number of Jewish passengers, foundered before Haifa; and those who escaped from the wreck settled at Jaffa. In 1839 a body of Ashkenazim, coming from Europe, established themselves at Jaffa. The community was, however, too poor to buy a cemetery, and continued to bury its dead at Jerusalem.
In 1841 the chief rabbi of Jerusalem, Abraham Ḥayyim Gagin, assigned to Jaffa Judah Halevy as rabbi. Thenceforth the old "ḥerem" of the Jerusalem rabbis against the settlement of Jews in Jaffa, the object of which was to attract all immigrants to Jerusalem, ceased to be binding. Jews even from Jerusalem went to Jaffa and established themselves there for commercial purposes. Among these may be cited Amzaleg, the present English consul in the city.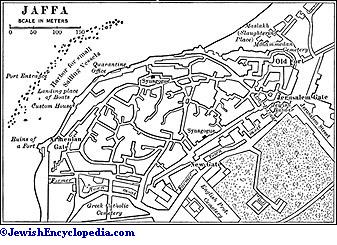 Plan of the Modern City of Jaffa.
Present Statistics.
Jaffa, in a total population of 17,713 inhabitants, including 11,630 Moslems and 3,113 Christians, besides Armenians, Greeks, Latins, Maronites, and Copts, possesses 2,970 Jews, of whom 1,210 are Sephardim and 1,760 Ashkenazim. The Jews occupy three city districts, bearing the respective names "Neweh Ẓedeḳ," "Neweh Shalom," and "Neweh Yafeh," and each comprising a block of houses. The Jewish market, consisting of shops and workrooms, is partly on the quay and partly on the main street traversing the city. Although of recent foundation, the community possesses a number of institutions, e.g.:
The Hospital Sha'ar Ẓiyyon, founded in 1891, and sustained by the gifts of the Jewish philanthropists of Europe; a public library, founded in 1885, and containing several thousands of books in different languages; two schools, founded in 1894, sustained by the Alliance Israélite and by Zionist societies of Russia and Vienna, and educating 118 boys and 241 girls; two Talmud Torahs: one, Or Torah, Sephardic, founded (1838) through the munificence of Baron Menascé of Alexandria and educating 180 boys; the other, Sha'are Torah, Ashkenazic, dating from 1884 and accommodating 130 boys; three Ashkenazic synagogues,one Sephardic; and some private midrashim. Jaffa possesses also five Jewish benevolent societies, among them a B'nai B'rith lodge.
In 1898 Jaffa had for chief rabbi Joseph ben Nuss (d. 1901). He was succeeded by Rabbi Malka.
Bibliography:
Almanach Luncz, 1898;
Bulletin d'Alliance Israélite, 1901;
S. Munk, La Palestine.
D.
M.
Fr.