MOSES BEN JACOB OF COUCY (SeMaG):
(Redirected from KOZZI, MOSES.)
Travels in Spain.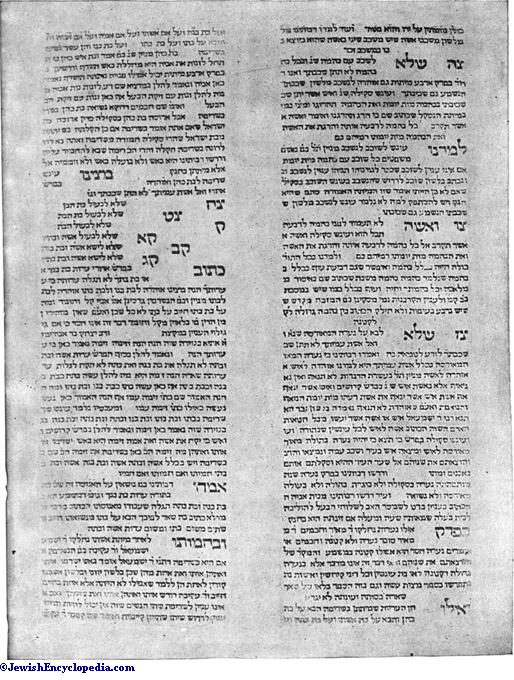 Page from the First Edition of the "Semag," Rome (?) Before 1480.
(From the Sulzberger collection in the Jewish Theological Seminary of America, New York.)
French tosafist and codifier; lived in the first half of the thirteenth century; descendant of a family of distinguished scholars. He is usually cited by the abbreviation

. The correct rendering of the word

—"from Coucy"—was discovered by Zunz. Moses' maternal grandfather was Ḥayyim ben Hananeel ha-Kohen of Paris. Nothing is known of Moses' life before he settled in Paris to study under Judah ben Isaac, the great French tosafist. He received instruction also from a certain Joseph (Tos. Yeshanim to Yoma 11a, 70b), who can not be positively identified, but who may have been either the poet Joseph of Chartres, mentioned in the "SeMaG" (Prohibition No. 113), or the tosafist Joseph ben Baruch. Moses mentions occasionally Simson ben Abraham of Sens and Baruch ben Isaac of Worms, author of the "Sefer ha-Terumah"; it is usually believed, especially of the latter, that they were his teachers, although he does not expressly call them such. In 1235 Moses traveled in France, and in 1236 in Spain, lecturing publicly in the synagogues on the prescriptions of the Mosaic law and admonishing his audiences to observe them, at the same time, however, emphasizing the truth that mere observance of the oral law to the neglect of justice and brotherly consideration toward others, irrespective of faith or race, can not be counted as meritorious ("SeMaG," Prohibition No. 64; Commandments Nos. 7 and 74). In Spain he found that a number of Jews had married Christians and Mohammedans, and he succeeded in bringing about their divorce (Prohibition No. 112; Commandment No. 3, end). He knew the French, Spanish, and Arabic languages, and was an eloquent speaker; hence he was called "ha-darshan" (the preacher; see "Catalogus Librorum Manuscriptorum Bibliothecæ Senatoriæ Civitatis Lipsiensis," p. 203, No. xvii.). In 1240 Moses was one of the four rabbis who, in a public disputation in Paris, were required to defend the Talmud against the accusations of Donin; R. Jehiel, however, was the only speaker among them. In 1250 Moses finished his "Sefer Miẓwot," afterward called "Sefer Miẓwot ha-Gadol" (abbreviated "SeMaG") in order to discriminate it from an extract arranged by Isaac of Corbeil and called "Sefer Miẓwot ha-Ḳaṭon" (abbreviated "SeMaḲ").
The "SeMaG."
The "SeMaG" of Moses of Coucy deals with the 365 prohibitions and the 248 commandments of the Mosaic law, separately expounding each of them according to the Talmudic tradition and the decisions of the Rabbis. The relation of this code to those of the Spanish and Franco-German schools, and especially to Maimonides' initial work "Sefer ha-Miẓwot," has been fully discussed in Jew. Encyc. vii. 643, s.v. Law, Codification of. The "SeMaG" is written with much clearness and is a rich source for the history of halakic literature, as it quotes numerous rabbinical authors and works of the past. It aroused much enthusiasm when it first became known, and has been always held in high respect, as is evidenced by the number of its editions, commentaries, and compilations. The first edition appeared before 1480, and copies exist in at least the four libraries of Breslau, Frankfort-on-the-Main, Oxford, and the Sulzberger library (see Jew. Encyc. vi. 578, s.v. Incunabula). The second edition was printed at Soncino in 1488 by Gershon ben Moses Soncino—the first book printed in his office. Subsequent editions appeared as follows: Venice, 1522; with Isaac Stein's and Elijah Mizraḥi's commentaries, ib. 1547; with Isaac Stein's, Elijah Mizraḥi's, and Solomon Luria's commentaries, and Judah Najjara's annotations, Leghorn, 1808; an edition by Sebastian Münster under the title "Miẓwot lo Ta'aseh u-Miẓwot 'Aseh," with a Latin translation of the commandments and prohibitions, Basel, 1533. Elijah Mizraḥi's additions were printed also separately (Constantinople, 1520); Joseph Kremenetz likewise wrote a commentary on the "SeMaG," under the title "Bi'ure SeMaG" (Venice, 1605); and Samuel Galante wrote a compendium under the title "Netibot ha-'Olam" (Lemberg, 1807). For subsequent editions, commentaries, and compendiums see Steinschneider, "Cat. Bodl." col. 1796; Zedner, "Cat. Hebr. Books Brit. Mus." p. 569; Benjacob, "Oẓar ha-Sefarim," P. 362. Almost every great Jewish library has some manuscripts of the work.
Other Works.
Moses of Coucy is the author of a commentary on the tractate Yoma entitled "Tosefot Yeshanim," or "Old Tosafot." Its comments are distinguished for their brevity and clearness, and are a rich source for the tosafot of his teacher Judah Sir Leon of Paris. They were printed for the first time in Frankfort-on-the-Main, 1721, and are contained in the newer Talmud editions (see Steinschneider, "Cat. Bodl." p. 213, No. 8). His commentary on the Pentateuch seems to have been very short and to have had the title "Peshaṭim." It is quoted in several Pentateuch commentaries, that of Judah ben Eliezer, entitled "Minḥat Yehudah," making the most frequent use of it. A penitential prayer by Moses, which he wished to be recited kneeling (Neubauer, "Cat. Bodl. Hebr. MSS." Nos. 551, 1118), came into wide use during his lifetime (Zunz, "Literaturgesch." p. 479).
Among Moses' pupils were his two nephews, Isaac ben Ḥayyim (author of a commentary on the Pentateuch) and the tosafist Perez ben Elijah of Corbeil. It is an old error that Mordecai ben Hillel Ashkenazi was a pupil of Moses of Coucy (Steinschneider, l.c.; S. Kohn, "Mordechai ben Hillel," p. 38, Breslau, 1878). It has been said, though with but little probability, that Meïr of Rothenburg was a pupil of Moses of Coucy (S. Kohn, l.c. p. 143).
Bibliography:
E. Carmoly, La France Israélite, pp. 100 et seq., Frankfort-on-the-Main, 1858;
F. Lazard, Sur Quelques Rabbins de la Fin du XIV⊇ Siècle, in Histoire Littéraire de la France, xxi. 511 et seq.;
Gross, Gallia Judaica, pp. 556 et seq.;
Renan-Neubauer, Les Ecrivains Juifs, pp. 405, 409, 437, 475, 491, 660, 683-686;
idem, Les Rabbins Français, pp. 437, 741 (see Index);
Neubauer, M. J. C. i. 95-96;
ii. 232, 237;
Winter and Wünsche, Die Jüdische Litteratur, i. 88, ii. 476, iii. 644;
Zunz, Z. G. Index.
W.
B.
M.
Sc.