LILIENTHAL, OTTO:
German mechanical engineer and experimenter in aerial navigation; born May 23, 1848, at Anklam; died Aug. 9, 1896, at Rhinow. Lilienthal's theory was that artificial flight must follow the principles of bird-flight. His experiments, which were made with the assistance of his brother G. Lilienthal, extended over a period of twenty-five years; in the summer of 1891 he made, with a pair of curved wings designed for soaring, the first practical demonstration of man's ability to fly. He made the flight successfully several times, but finally met death during an experiment at Rhinow.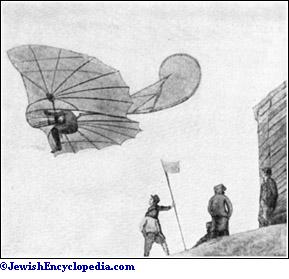 Otto Lilienthal Experimenting with His Flying-Machine: Starting from a Platform.
(From a photograph.)
Lilienthal was a member of the German Society for the Advancement of Aerial Navigation. He was the author of "Der Vogelflug als Grundlage der Fliegekunst" (Berlin, 1889), in which he explained the theoretical reasons for the form of his aerial machine; and "Die Flugapparate."
Bibliography:
Chanute, Progress in Flying Machines, pp. 202-211, New York, 1899;
Kohut, Berühmte Israelitische Männer und Frauen, No. 15, pp. 246-247;
Vallentine and Tomlinson, Travels in Space, pp. 252 et seq., London, 1902;
Report of the Smithsonian Institution, pp. 189-199, Washington, 1893.
S.